Welcome back, Michelle Rasmussen.
A year after breaking a leg in a soccer match with Missouri, Kansas University's Rasmussen will be back on the field again tonight against the Tigers.
First kick is scheduled for 7 p.m. at MU's Walton Complex in Columbia, Mo.
On Oct. 12, 2003, as Rasmussen dribbled across midfield midway through the second half of KU's 2-0 win, Missouri midfielder Elyse Nikonchuk crashed into her with a cleats-up tackle. Rasmussen's leg was broken.
She lost 20 games of her collegiate career -- the equivalent of a full season. She couldn't play in KU's 2-0 victory over the Tigers a month later in the NCAA Tournament, or its Sweet 16 loss at No. 2 UCLA. She sat out the first 10 games of this season, too.
"I had to learn patience really fast," Rasmussen said. "I'd never really been out for an injury so it was hard at first and I had to adjust a little bit."
After 11 months of rehab, the Vermillion, S.D., native, returned to the lineup Sept. 26 against Colorado, 50 weeks after being rushed to the emergency room.
"It was pretty frustrating," she said. "But I didn't want to sit and sulk about the games I lost. I wanted to get back in it, rehab my leg, and get my leg back to feeling better again. That was my main focus after getting hurt -- getting back to being able to play again."
She has played significant minutes in KU's last three games -- all victories -- and will be in the lineup tonight for the 10th-ranked Jayhawks.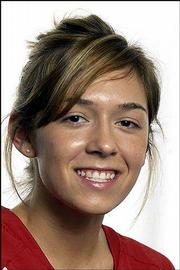 "She just brings a lot of enthusiasm to the team and everybody gets real pumped up when she comes out there," senior defender Stacy Leeper said. "Just seeing what she's done pumps everybody up."
Rasmussen said she has put the injury behind her and has no fear of playing at MU again.
"They have a whole new surface, so to me it's a different field," she said, pointing out MU ditched its turf for Bermuda grass this year. "I'm not really nervous. I'm just excited."
Leeper said the Jayhawks (11-2 overall, 3-1 Big 12 Conference) have not forgotten their teammate's stolen season, but insisted there would be no head-hunting against Missouri (5-6-1, 2-2).
"It's not like we're going to go for revenge or anything, because that's not something you wish upon anybody," she said. "But there's a little bit of extra motivation going there."
Today's game is the first of five straight on the road for the Jayhawks. Their next home game isn't until the regular-season finale Oct. 29 against Iowa State.
Copyright 2018 The Lawrence Journal-World. All rights reserved. This material may not be published, broadcast, rewritten or redistributed. We strive to uphold our values for every story published.