Most people associate 4-H with farm children raising hogs, baking pies and entering exhibits at the county fair.
But the organization has maintained a presence in Lawrence schools for seven years by providing after-school programming through K-State Research and Extension's Douglas County office.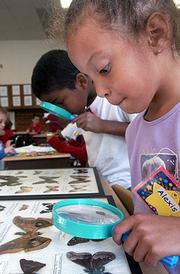 "By going into the schools we make it much easier for a youth to have a 4-H experience when it can be part of their after-school programming," said Trudy Rice, director of the Douglas County Extension Office.
The extension office and 4-H play an active role in the After School Alliance, working with Lawrence public schools and the Boys & Girls Club.
The hope is that 4-H programs can contribute to and enhance student performance, Rice said.
Extension agents go to seven sites once a week for 90 minutes. Emphasizing leadership, citizenship and life skills, the agents teach lessons and provide project opportunities involving arts, crafts, food and nutrition, among other things.
Last week, Douglas County extension agent Paula Aiken taught second-graders in the after-school program at New York School about insects.
"It's pretty basic information," she said. Students could remember from their last meeting with Aiken that insects have three sections and six legs.
They also knew some "good" bugs, like butterflies, and "bad" bugs, like mosquitoes.
"Fleas are bad bugs because they make your dog go crazy," one student said, contributing to the discussion.
After the lesson, students had the chance to read books about insects, make bug-faced headbands and look at mounted moths and butterflies with a magnifying glass.
Erika Zimmerman, director of New York's after-school program, said the lessons that extension agents teach provide another way to reach children.
"It gives us an opportunity to extend our reach, as far as an after-school program goes, and just provide different opportunities and different things for the kids to excel at," she said.
The Douglas County Extension Office and 4-H provide programming at seven sites. They are:¢ The Boys & Girls Club, 1520 Haskell Ave.¢ Cordley School, 1837 Vt.¢ Deerfield School, 101 Lawrence Ave.¢ Kennedy School, 1605 Davis Road¢ New York School, 936 N.Y.¢ Pinckney School, 810 W. Sixth St.¢ Woodlawn School, 508 Elm
Copyright 2017 The Lawrence Journal-World. All rights reserved. This material may not be published, broadcast, rewritten or redistributed. We strive to uphold our values for every story published.