Kansas City, Mo. — Jon Garland pitched six solid innings, and the Chicago White Sox clinched second place in the AL Central with a 4-2 win Friday over the reeling Kansas City Royals.
Garland (12-11) allowed two runs and five hits with three strikeouts and three walks to lead the White Sox to their eighth win in 11 games. He raised his career record against Kansas City to 10-4.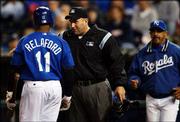 The Royals have lost seven in a row and a franchise-record 103 for the year. They'll have to beat the White Sox at least once in their final two games to avoid tying the 1964 Athletics for the most losses in Kansas City's major-league history.
Jaime Cerda (1-4) relieved Denny Bautista to start the seventh and loaded the bases with one out on two walks and a single by Juan Uribe.
Reliever Matt Kinney came in and struck out Aaron Rowand, then threw a wild pitch that scored Joe Borchard with the go-ahead run.
After an intentional walk to Carlos Lee, Kinney walked Paul Konerko on a 3-2 pitch to force in the fourth run and give Konerko his 117th RBI.
Shingo Takatsu got three outs for his 19th save.
David DeJesus, stretching his hitting streak to 13 games, doubled leading off the first for K.C. He later scored on Calvin Pickering's grounder to second.
Copyright 2018 The Associated Press. All rights reserved. This material may not be published, broadcast, rewritten or redistributed. We strive to uphold our values for every story published.