Baldwin — Even the two-point conversion worked for Baldwin High's football team.
After the Bulldogs lost their unblemished record when they couldn't convert on a conversion late in last week's one-point loss at Louisburg, Baldwin executed in all phases Friday night -- including a two-point pass play -- in a 27-7 blowout of Ottawa at Liston Stadium.
"I wish we could have done that last week," said Baldwin quarterback Jeremy Wright, who was stuffed on an option run on the two-point attempt against Louisburg, but Friday found wideout Aaron Hannon in the back of the end zone after the Bulldogs' third score. "No doubt that loss played heavy in our heads this week, but we couldn't wait to get back out there."
It showed.
The Bulldogs (4-1) forced the Cyclones (3-2) to commit six turnovers, including five in the first half. Two of Ottawa's miscues in the first 24 minutes were fumbles that set up Bulldog scores.
A Baldwin defensive stand produced good field position, and after an Ottawa punt, John Brown put the Bulldogs on the scoreboard with a 22-yard touchdown scamper.
Two possessions later, Baldwin's Klay Garrison sideswiped Ottawa quarterback Billy Harris in the end zone, allowing Bulldog Brandon Cone to fall on the loose ball for his team's second score.
"I'm super proud of the way our defense played tonight," Baldwin coach Mike Berg said. "All week long guys have just been flying to the football, and it certainly continued here tonight."
So did Baldwin's dominating ground game. The Bulldogs racked up 280 yards on the ground and added two more rushing touchdowns in the fourth quarter when Luke Halford bowled in from four yards out and Garrison broke free for a 26-yard romp.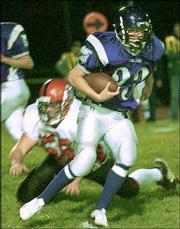 "What's kind of disappointing is that we lost our swagger at the end of the third quarter and into the fourth quarter," Ottawa coach Pat Boeh said. "The turnover issues continues to haunt us, but I really thought the main difference was how they controlled the line of scrimmage."
And on top of all that was the two-point conversion.
After a Baldwin PAT sailed awry after the second score, Berg decided to go for two in the fourth. On the conversion play, Wright rolled out of the pocket, bought some time and found a crossing Hannon in the back of the end zone.
"It was kind of big deal, because that's what we needed last week and we'd been working on it all week in practice," Wright said. "But it was the intensity we came out with early on that allowed us to take control."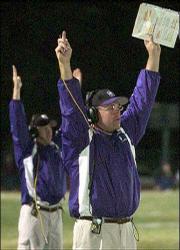 Copyright 2018 The Lawrence Journal-World. All rights reserved. This material may not be published, broadcast, rewritten or redistributed. We strive to uphold our values for every story published.