When ninth-grader Joseph Schmalz walks down the hallways at West Junior High, he's just another face in the crowd.
But get him on a bike, and he stands out.
For the most part, his classmates have no idea, but Schmalz is a cycling star in the making.
At just 14 years old, he is one of the country's top junior cyclists.
"Some know, and they're just like 'Yeah, that's cool,'" Schmalz said. "Others don't care. A lot of them don't even know."
If those 'others' got the chance to see him ride his bike, it would be hard for them not to be impressed.
In the 2004 season, Schmalz ranked second in the USCF Men's Junior 13-14 criterium rankings, first in the road race rankings and eighth in the time trial standings.
He even ranks ninth in the nation overall among juniors of all ages.
It's hard to believe he has accomplished so much in just a couple of short years. In the same school where Schmalz is just another kid, two years ago he saw a flyer that caught his attention and turned him into a phenom.
Schmalz was handed information at school about the 'Twilight Series,' which are free kids bike races held every summer at Haskell Indian Nations University. It was there that Schmalz met Jim Whittaker of Velotek Training, who soon would become his coach.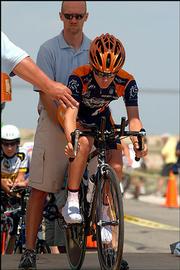 Whittaker began racing professionally in 1988 and coaching in 1994. He is the head coach for GP Velotek, which is a 41-member team of Kansas racers with youth, junior and senior divisions. Schmalz has family connections on the team, with his grandfather, 69-year-old Gary McGregor, racing in the senior division.
Whittaker could tell Schmalz was something special the first day GP Velotek began team practice, when the youngster was able to keep up with him while sprinting.
Sprinting is what Schmalz loves most. He considers his favorite races the individual time trials. In time trials, Schmalz has no opponent but himself in the all-out 10-12-kilometer sprint.
"He has a positive attitude, an explosive sprint with good aerobic abilities and he's got a good sense of timing," Whittaker said. "He just has a good feel for racing."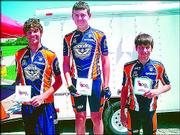 This summer, Schmalz emerged as the junior division's top gun. He took first place in a slew of races, but his best memory was taking ninth in time trials at the Nationals on Aug. 19 in Park City, Utah.
Like any young cyclist, Joseph Schmalz has one professional who he would love to model himself after -- six-time Tour de France winner Lance Armstrong. He also looks up to Whittaker as a role model, and the coach knows Schmalz could have what it takes to go a long way in racing.
"Joe has a lot of potential, and he can probably go as far as he wants," Whittaker said. "His psychological makeup is that he handles disappointment well and he's a positive person. That's really important in athletics.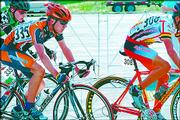 "For someone that loves the sport, there's not really bad days. For them, even a bad day on a bike is a very good day."
Schmalz realizes his dreams may not come true. He already has a future career in mind -- physical training or therapy -- should his sky-high dreams fall short.
Schmalz calls the racers in the Tour de France 'freaks of nature.' Even though Lance Armstrong is a one-in-a-million, rare exception of a pro racer who has become a success in the United States, the Tour de France and the big-time status are still goals Schmalz is going to target.
"I want to get on the junior national team by the time I'm 18," he said. "I want to go as high as I can possibly go."
Copyright 2018 The Lawrence Journal-World. All rights reserved. This material may not be published, broadcast, rewritten or redistributed. We strive to uphold our values for every story published.