When Alaina and Gabriel Fluke prepare for school in the morning, they don't need lunchboxes or backpacks. And if their teacher says it's OK, they can even go to class in pajamas.
"Every time we ask for a break, she says, 'Sure thing,'" said 6-year-old Alaina.
Alaina and Gabriel, 7, are among a growing number of children who are home schooled.
According to the National Center for Education Statistics, about 1.1 million children were home schooled in 2003 compared with about 850,000 in 1999.
A May report from the Kansas State Department of Education said 12,367 children were registered in Kansas and 347 in Douglas County as nonaccredited private school students. This includes students who are home schooled and those who attend nonaccredited schools, said Gary Lewis, principal of the Lawrence Virtual School.
Lewis said such factors as children with special or medical needs, parental concerns with safety and dissatisfaction with the public school system contributed to parents choosing to teach their children at home.
Barb Michener, Lawrence, said home schooling allowed her children to study topics of their choosing, and she was able to teach them certain moral values.
"I think that imparting and modeling our values to our kids is extremely important, and it's hard to do when you send them to school for so many hours a day," she said.
Josephine Michener, 17, said being home schooled gave her the opportunity to pursue her two passions -- music and dance -- and to spend time alone doing what she wanted.
"I never really had any peer pressure," she said. "I don't feel that I'm affected by pop culture."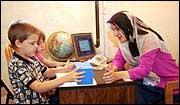 Barb Michener said teaching her children at home was successful because she was flexible with what subjects her children wanted to learn. She said she never pushed them into studying a certain topic.
"When the time comes, when they see that they need it, they can eat it up in a way smaller amount of time," she said.
Allison Fluke-Ekren said she turned to home schooling last fall because she was dissatisfied with her children's results in public and private schools. Fluke-Ekren said Alaina had problems paying attention during class, and Gabriel frequently became bored because the material was too easy for him.
Fluke-Ekren said she decided to enroll her children in the virtual school because buying materials and creating her own curriculum was too expensive and time consuming.
"You can spend several thousand dollars buying this stuff for your child," she said.
The virtual school provides parents in the district with computers and learning materials. The school also tracks student attendance and progress.
Fluke-Ekren said teaching her children at home allowed her to use personal examples from their daily lives to teach concepts and ideas.
For instance, when Alaina captured a caterpillar one day, her mother used "Squishy" as a science project to talk about the cycle of butterflies. This lesson and other science projects were most interesting to Gabriel because science is his favorite subject, he said.
"I want to be a dinosaur scientist -- a paleontologist," he said.
In addition to such school staples as math and science, Alaina and Gabriel have art and music classes and learn Arabic from a tutor three days a week.
Fluke-Ekren said if she ever stopped home schooling her children, she would place them in private schools.
"But at this point, no -- they're doing great," she said. "I don't have anything against the institution of schools, but it has to work properly."
Copyright 2018 The Lawrence Journal-World. All rights reserved. This material may not be published, broadcast, rewritten or redistributed. We strive to uphold our values for every story published.