AUBURN HILLS, MICH. — Fists were flying. So were cups, plastic bottles and even a chair in one of the ugliest NBA brawls ever -- and Indiana's Ron Artest was right in the middle of it.
Artest and Stephen Jackson charged into the stands and fought with fans in the final minute of their game against the Detroit Pistons on Friday night, and the brawl forced an early end to the Pacers' 97-82 victory.
Officials stopped the game with 45.9 seconds remaining after pushing and shoving between the teams spilled into the stands once fans got involved by throwing things at the players near the scorer's table.
"It's the ugliest thing I've seen as a coach or player," said Pistons coach Larry Brown, who was in the middle of the confrontation, trying to break it up.
After several minutes of players fighting with fans in the stands, a chair, beer, ice and popcorn were thrown at the Pacers as they made their way to the locker room in one of the scariest brawls in an NBA game.
"I felt like I was fighting for my life out there," Pacers coach Rick Carlisle said. "I'm sorry the game had to end this way."
The Palace announcer said the game was being stopped and pleaded with fans not to throw things.
It all started when Detroit's Ben Wallace went in for a layup and was fouled hard by Artest from behind, and escalated when Artest stormed into the stands after being hit by a full cup.
After being fouled, Wallace wheeled around and pushed Artest in the face. The benches emptied, and punches were thrown.
As the players continued shoving each other near center court and coaches tried to restore order, Artest sprawled out on his back on the scorer's table, looking relaxed.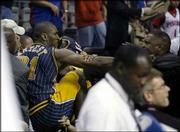 Just when it appeared tempers had died down, Artest was struck by a cup and beverage thrown from the stands. He jumped up and charged into the stands, throwing punches as he climbed over seats.
Fans were punching back, and Jackson and another teammate joined Artest in the melee.
"I was worried about Stephen Jackson and Artest, as silly as they were acting," Brown said.
Security personnel and ushers tried to break up the fighting. Former Pistons player Rick Mahorn, who was seated courtside as a Detroit radio analyst, tried to stop the brawl in the stands.
"The police investigation is ongoing, and that's it," said Pistons spokesman Matt Dobek, who refused to comment further.
Detroit's Rasheed Wallace and Indiana's David Harrison also were in or near the stands. Both were trying to break up the fights.
Later, a man in a Pistons jersey approached Artest on the court with fists raised, shouting at him. Artest punched him in the face, knocking the man to the floor before leaving the court. Artest was pulled away, and the fan charged back. Jermaine O'Neal stepped in and punched the man.
"The NBA is withholding comment until it can review the incident," NBA spokesman Tim Frank said.
Players from both teams left the arena without comment.
Quentin Richardson of the Phoenix Suns watched the brawl on television.
"I have never seen a fight like that in a game since I was in high school," he said. "Man, there are going to be some lawsuits. You don't think some of those fans aren't going to want some NBA money?"
Lamar Odom of the Lakers saw it for the first time as he was being interviewed.
"Whoooo. When you see things like that, just think about what it takes for NBA players to go into a crowd," Odom said. "Sometimes fans get kind of out of hand, but it must have taken a lot for NBA players to go into a crowd and start a fight."
Police prevented reporters from crossing the loading dock to get to Indiana's locker room or the area where the Pacers' bus was located.
"I'm just embarrassed for our league and disappointed for our young people to see that," Brown said.
Blazers 110, Bucks 98
Portland, Ore. -- Damon Stoudamire scored 33 points, and Zach Randolph added 22 points and 18 rebounds to lead Portland over Milwaukee.
Sonics 101, Raptors 94
Toronto -- Rashard Lewis scored 27 points, and Ray Allen had 24 to lead Seattle to its ninth straight victory. Antonio Daniels scored 12 of his 19 points in the fourth quarter for the surprising SuperSonics.
Mavs 103, Knicks 101
Dallas -- Dirk Nowitzki had 30 points and 12 rebounds to lead Dallas over New York.
Nuggets 99, Bulls 81
Denver -- Earl Boykins matched his career high with 32 points, and Carmelo Anthony added 18 despite foul trouble, helping Denver keep Chicago winless. Kenyon Martin had another active night with 13 points, 10 rebounds and six assists, and Andre Miller added 16 points for Denver.
Suns 107, Lakers 102
Phoenix -- Amare Stoudemire scored 33 points, including the go-ahead three-point play with 51.8 seconds remaining, to power Phoenix over Los Angeles.
Kings 107, Grizzlies 105
Sacramento, Calif. -- Chris Webber had 31 points, 12 rebounds and seven assists, and Sacramento rallied in the fourth quarter for a victory over Memphis.
Spurs 92, Celtics 84
Boston -- Tim Duncan scored 26 points to stay unbeaten in all 14 of his games against Boston, and San Antonio capitalized on fourth-quarter turnovers.
Heat 107, Jazz 105, OT
Miami -- Dwayne Wade capped a career-high 39-point night with a jumper over Raja Bell at the buzzer in overtime, giving Miami a win over Utah.
Copyright 2018 The Associated Press. All rights reserved. This material may not be published, broadcast, rewritten or redistributed. We strive to uphold our values for every story published.