A 30-year-old Kansas University student was arrested early this morning after fleeing from police at high speed through Lawrence's downtown and crashing his car through a storefront window at a photo gallery, Lawrence police said today.
The incident began about 12:10 a.m. at the Bottleneck, a bar at 737 N.H., said Sgt. Dan Ward, a Lawrence Police spokesman.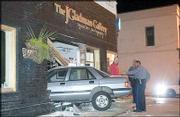 After the student was "removed from the bar," he got in his car, then drove in front of the Bottleneck, got out of his car and threw a rock through the bar's window, Ward said.
The Bottleneck has listed that damage at $1,500, Ward said.
"The individual got in the vehicle and left southbound on New Hampshire with no lights at a high rate of speed," Ward said. "He ran the stop sign at Ninth and New Hampshire where one of our officers was located."
Ward said the officer pulled out behind the student's car and tried to get him to stop.
"But the vehicle continued at a high rate of speed," Ward said. "We were operating red lights and sirens."
The student went west on 11th Street and then south on Massachusetts Street, Ward said.
"And at 14th Street, he attempted to turn west on 14th and turned too wide and ran into the building," Ward said.
The car, a 1992 Chevrolet Corsica four-door sedan, crashed through the storefront glass window of the J. Gladman Gallery, a photography business at 14th and Massachusetts streets.
Ward said the student was arrested on charges of operating under the influence, criminal damage to property, a stoplight violation, a stop sign violation, attempting to elude police and driving without headlights. Formal charges were expected today.
John Gladman, owner of the gallery, said this morning that when the car went through his gallery window, it struck a grand piano, a family heirloom.
Dave Hamill, owner of the building, told the Journal-World that it appeared as if the driver was aiming his car toward the building, because he apparently steered it between a light pole and parked car in front of the building.
Hamill estimated the damage to the window and the building at $10,000.
"I'm glad he hit the front of my building instead of hitting some college kid," Hamill said.
---
For more on this story, see the 6News story at 6 p.m. and 10 p.m. on Sunflower Broadband's Channel 6 and pick up a copy of Friday's Journal-World.
Copyright 2017 The Lawrence Journal-World. All rights reserved. This material may not be published, broadcast, rewritten or redistributed. We strive to uphold our values for every story published.