Loveland Pass, Colo. — The four skiers emerged from vehicles at the side of a highway high in the Rockies and headed up a steep, tree-covered slope into the wilderness.
Working slowly through waist-deep snow late last spring, they climbed past the trees into alpine tundra toward a 13,000-foot chute, sometimes wearing skis and sometimes crawling on their hands and knees. Gradually, they became specks so small that drivers on the highway below thought they were mountain goats.
After four hours, they stopped under a brilliant sun amid wind-blown, barren rocks. Guide Chris Anthony surveyed the scene and announced: "We're turning around."
He had given up plans to ski down the chute, and he made no apologies for it.
"Sometimes pride is the hardest part about turning back," said the world-class extreme skier.
The four are among a growing group of expert outdoorsmen and women who seek the thrill of racing down slopes of virgin snow deep in the wilderness, whether it be on skis, snowboards or snowmobiles. Some, bored with the groomed slopes at ski resorts, are drawn by the thrill of danger in the backcountry -- particularly avalanches -- while others simply want to test their skill.
It is difficult to track the number of people who head into the backcountry because no permits are required at most locations.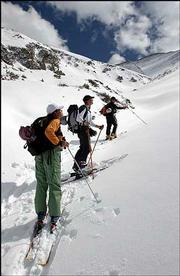 But at the Beaver Creek ski resort near Vail, Jeff Thompson, who heads the search-and-rescue department for Beaver Creek ski patrol, says the number of people who have come into mountain outposts seeking information has increased dramatically in the past six years. Many enter the backcountry through ski areas, and when they get in trouble the ski patrollers can end up rescuing them.
"Equipment has improved, ability levels have improved. What hasn't improved is the ability of people to use their brains. People get summit fever," said Breckenridge ski patroller Joe Kanetsky, the resort's avalanche specialist.
Aaron Brill is one of those capitalizing on the interest in extreme skiing. He built a one-lift ski area near remote Silverton in southwest Colorado to guide skiers into the backcountry. Initially, he was allowed 40 skiers a day under his permit; in his second year, he turned 1,000 skiers away. Last season, his permit allowed 80 a day, and he still turned people away.
For a $119 lift ticket during the peak January through March season ($99 in December and April), skiers and snowboarders are assigned to a guide in groups of eight. All guides are equipped with avalanche beacons, shovels and probes. All customers need a beacon shovel and probe, which can be rented on the mountain.
¢ Chris Anthony Adventures: Guided ski trips to Italy, Austria and Slovenia, Jan. 9-16; Jan. 29-Feb. 6; Feb. 5-13; packages are $2,699 to $3,200, double occupancy; details at www.chrisanthony.com or (970) 827-9091. Seven-day heli-skiing trips in March and April in Cordova, Alaska, $1,837.¢ Silverton ski area: www.silvertonmountain.com/ or (970) 387-5706. Opening date: Dec. 16. Guided skiing/snowboarding is $99 in December and April; $119 January through March.
Copyright 2018 The Associated Press. All rights reserved. This material may not be published, broadcast, rewritten or redistributed. We strive to uphold our values for every story published.