Services for Mildred Fern Vann, 82, Lawrence, will be at 11 a.m. Monday at Warren-McElwain Mortuary. Burial will be in Oak Hill Cemetery.
Mrs. Vann died Wednesday, Nov. 10, 2004, at Lawrence Memorial Hospital.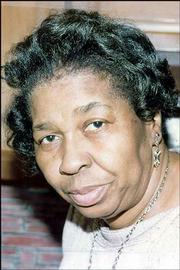 She was born April 11, 1922, in Boicourt, the daughter of Thomas and Sarah Dabbs Redick. She moved to Lawrence in 1941 from Fort Scott.
Mrs. Vann was a housekeeper at Lawrence Memorial Hospital and a cook at several fraternities and sororities at Kansas University. She also had worked at Hercules Inc. She was a longtime member of Calvary Church of God in Christ.
She married Elmer O. Vann in 1938 in Mound City. He died Sept. 1, 1984.
A son, Dalton T. Vann, also died earlier.
Survivors include two daughters, Donna L. Mitchell, Lawrence, Sheila D. "Boo" Vann, Overland Park; six sons, Ottis H. Vann, Charlotte, N.C., Duane W. Vann, Kansas City, Kan., Leonard A. Vann, Raytown, Mo., James D. Vann and Craig E. Vann, both of Lawrence, Bryan K. Vann, Layton, Utah; two sisters, Juanita Young, Omaha, Neb., Pansy Redick, Kansas City, Mo.; 38 grandchildren; 50 great-grandchildren; and a great-great-grandchild.
The family will receive friends from 7 p.m. to 8:30 p.m. Sunday at the mortuary.
The family suggests memorials to the church, sent in care of the mortuary.
E-mail condolences may be sent to info@warrenmcelwain.com, subject: Vann.
Copyright 2018 The Lawrence Journal-World. All rights reserved. This material may not be published, broadcast, rewritten or redistributed. We strive to uphold our values for every story published.