ABIDJAN, Ivory Coast — Western nations launched one of the largest evacuations of Africa's post-independence era Wednesday as angry crowds chanted "all the whites out." French soldiers in boats plucked trapped countrymen from the banks of lagoons.
France commandeered commercial airliners and other nations scrambled military jets to fly out thousands of foreigners after attacks on civilians and peacekeepers. Violence erupted after government forces renewed attacks on rebels, ending a more than one-year cease-fire in the country's civil war.
Nine French peacekeepers and an American civilian died in a government air attack late last week, prompting the French to destroy Ivory Coast's tiny air force.
The retaliation sparked violence by loyalist youths, who took to the streets waving machetes, iron bars and clubs and attacking white expatriates.
On Wednesday, the U.S. Embassy and others sent escorts into the city, rescuing Americans, Canadians, Spaniards and others. Spain, Belgium and Italy sent military cargo planes to aid in the evacuations. French officials said three jets with space for about 250 people each would run shuttles to Paris and to Dakar, Senegal, likely for days.
As the convoys rounded up foreigners from their homes for evacuation, Ivory Coast's state TV alternately appealed for calm and for a mass uprising against the French, the country's former colonial rulers. French citizens darted out to the banks of lagoons, which surround the capital, were plucked to safety by French soldiers in boats.
Only a few hundred Americans remain in Ivory Coast, many of them missionaries and aid workers.
By late afternoon, much of Ivory Coast's largest city was quiet -- the first break from violence since Saturday.
Ivory Coast's "government is pushing to kill white people -- not just the French, all white people," said Marie Noel Mion, rescued in a wooden boat at daybreak, and waiting with hundreds of others at Abidjan's airport, some camped in tents on the floor of the terminal.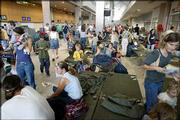 "The people here have lost everything -- their houses, their companies, everything," said a Belgian businessman, who was leaving after 23 years and not coming back. "I see a very dark picture for the future of Ivory Coast."
Ivory Coast is the world's top cocoa producer and once was West Africa's most peaceful and prosperous nation.
Copyright 2018 The Associated Press. All rights reserved. This material may not be published, broadcast, rewritten or redistributed. We strive to uphold our values for every story published.