Michael Josephson is sick and tired of hearing people complain about corporate crooks, moral deviants and dirty-trick politicians.
"Stop whining and do something about it," he said Monday, shortly after addressing a luncheon forum on ethics and character.
And there's no better place to start, he said, than with people taking responsibility for their behavior and holding those in leadership positions to a high standard.
"Enron didn't happen because of a core group of villains; that core group has always been with us," he said. Instead, he pinned the scandal on "more good people willing to do bad things, and more good people willing to look the other way."
Josephson is founder and president of the Los Angeles-based Josephson Institute of Ethics and a radio commentator, author and ethics consultant. His daylong Lawrence appearance, which included an online chat at the Journal-World and evening forum at Kansas University, was sponsored by The World Company, which owns the Journal-World.
Throughout the day, Josephson warned that an ever-increasing acceptance of "dishonesty, irresponsibility, selfishness and disrespect" had created a "generation predisposed to rationalization, gamesmanship and me-first entitlement attitudes."
The trend, he said, threatens the nation's democratic principles.
"I don't know about you, but I found this whole election sequence to be not a very uplifting one," he said, noting that both parties were automatic in their criticisms of the other.
"Rationalization -- our ability to reason in ways that favor 'me' -- is the most powerful of anesthetics," he said. "It disables the conscience. It prevents us from thinking straight about what it is we really believe in terms of principles."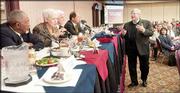 Divided we fall?
Kansas Gov. Kathleen Sebelius, a forum participant, agreed.
"Emerging from this election, frankly, leaves me feeling very sad -- not because of who won or who lost," Sebelius said. "We are so polarized, we're all losers."
The intolerance of opposing views, she said, has created a "very dangerous place ... in terms of how we survive as a democracy."
With mixed results, Sebelius said she had tried to get Kansans to see themselves as a group rather than a collection of individuals.
"It's all about 'what's best for me,' when it should be 'when one of us isn't doing well, then all of us aren't doing well,'" she said. "I really struggle with how to get back to that sense."
Josephson spoke from the podium then moved among audience members, posing questions and urging people to consider that those who held opposing views on particular subjects did not necessarily have to disagree on basic principles of conduct.
He is a proponent of what he calls the "six pillars of character": trustworthiness, respect, responsibility, fairness, caring and citizenship.
Others on the afternoon panel were Douglas County Commissioner Bob Johnson, Chief Judge Deanell Tacha of the 10th U.S. Circuit Court of Appeals, Lawrence Memorial Hospital CEO Gene Meyer and the Rev. Leo Barbee Jr. of Victory Bible Church. All are Lawrence residents.
Tacha said she tried to live by her grandmother's credo: Don't do anything during the day that keeps you from sleeping well at night.
Josephson's comments struck a chord with Jim Schwartzburg, a retired Lawrence businessman.
"I found myself realizing that I should probably listen more and talk less," he said. "He's not saying we should lower our moral standards or change our convictions. He saying we'd all be better off if we had a better understanding of where the other person is coming from. I agree with that."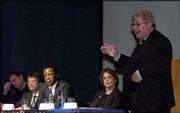 Losing vs. disappointment
During the evening session in the Kansas Union's Woodruff Auditorium, Josephson questioned KU Chancellor Robert Hemenway and other panelists about whether the university was teaching moral and ethical values and if those efforts were measured.
"I don't think there is anything you said that we can't do at the university," Hemenway said, adding that things could always be done better.
KU men's basketball coach Bill Self, also on the evening panel, said sports became too important when they are considered a "win at any cost" effort. He said a coach should instead ask himself if he is being the best he can be.
That prompted Josephson to ask Hemenway if Self's job would be secure if he had three losing seasons in a row.
Calling it a hypothetical question, Hemenway said he didn't think Self would have three losing seasons.
"I don't think a coach like Bill Self will disappoint you," Hemenway said.
Others on the evening panel were Bill Docking, Kansas Board of Regents member; Joan Hunt, KU Medical Center senior associate dean; Reginald Robinson, regents president and CEO; and State Rep. Kenny Wilk, R-Lansing.
The afternoon and evening sessions each were attended by about 400 people. Suzanne Gilbert was in the crowd at Woodruff and said she enjoyed the discussion.
"I liked that they said they could and would do better in teaching ethics," the Lawrence resident said. "And I appreciate having this discussion in our community."
Malcolm Gibson, general manager and news adviser to the University Daily Kansan, said Josephson's message rang true for him.
"It's something everyone can learn and re-learn," Gibson said. "I think it provides a foundation with which everyone can lift themselves."
---
Staff writers Mike Belt and Jesse Truesdale contributed to this report.
Copyright 2018 The Lawrence Journal-World. All rights reserved. This material may not be published, broadcast, rewritten or redistributed. We strive to uphold our values for every story published.