Lawrence Police arrested several war protestors about 2:15 p.m. this afternoon at the corner of Ninth and Kentucky street.
According to one of the protestors, Patrick Tyler, the group of 20 to 25 marched north up Massachusetts Street from South Park. They did not meet police interference until they turned north onto Ninth, where they marched in the right lane, leaving the left lane open for traffic.
At that point, Tyler said, several squad cars appeared and used a bullhorn to instruct the marchers to disperse and to get out of the street. When they did not, the police began making arrests. Tyler said that 11 police vehicles appeared at the scene. He estimated that police arrested five to seven protestors.
A police officer at the scene refused to comment on the arrests.
For more on this story, see tomorrow's Journal-World.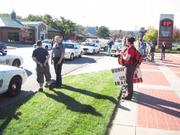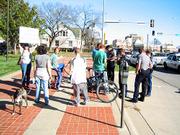 Copyright 2018 The Lawrence Journal-World. All rights reserved. This material may not be published, broadcast, rewritten or redistributed. We strive to uphold our values for every story published.