Perry — Visions of sugarplums may dance a little more quietly in these children's heads this holiday season.
The children of Perry Elementary School -- about 180 in all -- received tags Thursday designating them as a piece of food, such as turkey or carrot, and crawled through plastic tents decorated to look like a mouth or small intestine.
But the adventure, dubbed "Body Walk," wasn't just about fun.
School staff said they hoped the exhibit reminded children to eat healthfully as Halloween passed and Thanksgiving and Christmas approached.
"I'm sure there'll be a lot of turnips on Thanksgiving tables just because of this," Perry principal Judy Chamberlain joked outside the tents in the gym.
The exhibit aims to teach children the importance of taking care of their bodies by practicing habits such as eating healthy foods, exercising and avoiding tobacco. The Kansas State Department of Education brings Body Walk to nearly 100 schools a year, including a stop Tuesday at Deerfield School in Lawrence.
On Thursday, nine Perry second-graders crossed a mat that looked like a tongue and sat on plastic stools shaped like teeth inside a pink tent.
Volunteer Anna Barrett brushed some chairs in a circular motion with a giant toothbrush and gave a boy a blue rope so he could "floss" between the chairs.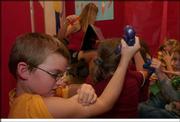 She pulled out clear tubes of sugar, explaining how much sugar is in a frosted Pop-Tart, a Coke and four Starbursts.
"I don't want you to be like Mr. Gross Mouth," she said, holding up a model of a mouth with brownish, decaying teeth and red gums, then motioning to the tubes of sugar. "He didn't brush, he didn't floss, he ate all of that and now look at his teeth."
The children took about an hour to move through the 11 stations, each staffed with a teacher or volunteer. Some tents resembled a body part and others featured motivational posters and charts depicting the body.
In the bones tent -- lined with posters, a cheese display, a yogurt container and a carton of milk -- teacher Joyce Reece encouraged the children to exercise and eat right to keep their bones strong.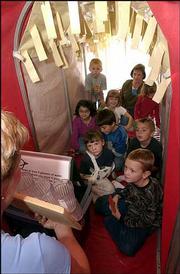 "Will the soda pop in this picture give us calcium?" she asked the class.
In the cafeteria afterward, 6-year-old Noah Johnson rubbed his chest.
"We need this to be pink," the first-grader said of his lungs. "You need to stop smoking or they'll get red or black or gray."
Marlai Logan, 8, described watching a boy "floss" between the toothlike chairs in the mouth.
"We just had a big old flosser," the second-grader said.
The education department charges schools $1 per child for the Body Walk.
Copyright 2018 The Lawrence Journal-World. All rights reserved. This material may not be published, broadcast, rewritten or redistributed. We strive to uphold our values for every story published.