Starkville, Miss. — Sylvester Croom was ready to rescue Alabama.
His beloved alma mater was scrambling after an abrupt, embarrassing coaching change last year, and Croom wanted the job. But the Crimson Tide spurned him for one of his proteges -- Mike Shula -- and broke his heart.
Now at Mississippi State, Croom is checking his emotions before a return Saturday night to his hometown of Tuscaloosa, and defusing talk about turning the game into a referendum on which coach Alabama should have chosen.
"That's beside the point. Mike's their head coach, and I'm here," Croom said. "From my standpoint, that's not changing -- not any time soon."
Shula also is trying to keep the focus on the field, not the sideline -- even though after last year's losing season in Tuscaloosa, some Alabama fans say the Tide picked the wrong guy.
"It's not coach Croom vs. Mike Shula," he said. "It's about our players. It's about our universities, our programs."
Croom never has hidden his disappointment about not getting the Alabama job.
He had more experience than Shula, and he coached and played under the legendary Bear Bryant.
But as gameday neared, Croom refused to say whether he had any sour feelings about Alabama's choice.
"It's in the past," said Croom, who was an NFL assistant for 16 years. "That's history.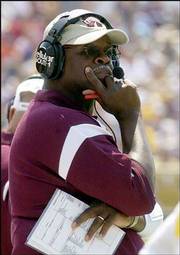 "The great thing about being in the NFL is, I am learning how to stay on an even keel. I'm going to do that same thing this week."
But one thing is clear: The first black head football coach in Southeastern Conference history could have been walking the home sideline at Bryant-Denny Stadium.
Croom's name is synonymous with accomplishment at Alabama -- the team issues an award bearing his name every spring -- and he was one of the Crimson Tide's first black players.
His tireless work ethic was revered there, and it made him a standout offensive lineman on Alabama's national-championship team in 1973. Croom coached under Bryant and Ray Perkins before moving to the pros.
And he seemed a natural fit last year when Alabama fired Mike Price for his activities at a strip club.
The search turned up two prominent names -- Croom and Shula.
Both were assistants with the Tampa Bay Buccaneers in the late 1990s, and Shula was a quarterback at Alabama during Croom's last season there in 1986.
Alabama went with Shula amid complaints from some that the Crimson Tide hired the wrong man. Some, like Rev. Jesse Jackson, said race may have played a part in Alabama's decision.
Debuting with a 4-9 record didn't help Shula quiet the critics.
Mississippi State gleefully scooped up Croom months later and made headlines for the move.
He led the Bulldogs (3-5, 2-3) past then-No. 20 Florida in one of the season's biggest surprises two weeks ago, then followed that victory by beating Kentucky.
"Alabama hired who they wanted to hire," said Bulldogs punt returner Jonathan Lowe, whose father and uncle played for the Tide. "I guess they felt like Shula was better than Croom. Mississippi State got Croom, and we're going to show them that we've got to do what we've got to do."
The Bulldogs still have plenty of room for improvement. Winning at Tuscaloosa would be about as surprising as beating Florida.
Croom said he didn't have time to think about revenge. He's more concerned with breaking Mississippi State's 15-game road losing streak.
Everything else is a sideshow.
"Winning a road game is all that matters this week," Croom said. "The fact that it's at Alabama makes it more special because it is Alabama, and it is one of the top programs in all of football."
Copyright 2018 The Associated Press. All rights reserved. This material may not be published, broadcast, rewritten or redistributed. We strive to uphold our values for every story published.