Douglas County voters should brace for waits at the polls today as dry weather and hot races combine for a predicted record turnout.
"I think it's going to be a long night," said County Clerk Patty Jaimes, whose office oversees elections.
Jaimes and other Kansas elections officials Monday said they were expecting record voter turnout at the polls today. Those who weren't among the thousands who cast an advance ballot might heed Jaimes' advice to avoid long lines at the polls.
"We're telling people that unless they have to be there early because of work, they should wait until later in the morning or in the afternoon when it's not so busy," Jaimes said. "And if there's a line, we're asking everybody to be patient."
One indicator of Kansans' interest in the election is record advance voting. In Douglas County, almost 8,400 voters cast advance ballots either in person or through the mail. That's nearly double the 4,734 votes cast in advance of the 2000 election.
"Both parties have been very active in getting people out to vote," Jaimes said.
The tight presidential race has increased voter interest, as has the contest between Dennis Moore and Kris Kobach in the 3rd Congressional District, which includes parts of Lawrence.
A steady stream of voters -- a mix of college students, senior citizens and weekend workers with the day off -- marked ballots Monday at the courthouse, the last day of advance balloting.
"I have a feeling it's going to be insane tomorrow, so I got it out of the way today," said Lawrence resident Lacy Larson, 23. "I'm glad I did. It was very quick, very easy."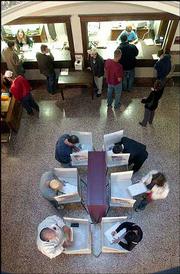 Both young and old
Two years ago, Douglas County had 52,838 active, registered voters. Today, it has 65,181.
Among the county's registered voters, Republicans and independents outnumber Democrats. Here's how it breaks down:
Republican -- 22,648.
Unaffiliated -- 21,718.
Democrat -- 20,167.
Libertarian -- 570.
Reform -- 78.
Jaimes said she hadn't noticed an upswing in Republican, Democratic or independent registrations.
"What I have noticed is more college students -- which is to be expected, this being a presidential election year -- and more senior citizens," she said. "We have a lot of senior citizens who say they're voting for the first time."
Jaimes attributed most of the increase in turnout to intense interest in the presidential election.
Peter Spear, a 36-year-old Lawrence sculptor, voted for the first time Monday.
"I voted for Kerry," he said. "I see George Bush as the Antichrist. He's gotten us in a war that's unnecessary, he's undermined our credibility around the world and he talks all the time about preserving life, as in abortion -- and then he kills thousands of Iraqi children in an ill-advised war."
Rachel Pomraning, 26, also was voting for the first time Monday.
"I felt morally compelled to vote," she said. "I voted against Bush."
Heather Knox, a 22-year-old Kansas University student from Ohio, voted for Bush.
"I come from a Republican family, so that's how I voted," she said, noting that she expected most of her friends to vote for Kerry.
"I have a few friends who are Republicans," she said, "but most of them are Democrats."
Minutes before the noon deadline for advance votes, Christina Schlosser, 28, cast the last advance ballot in Douglas County. She voted for Ralph Nader.
"I have nothing against Kerry," she said. "It's just that I don't see that much difference between (Republicans and Democrats), and a lot of what I hear Nader saying is what I'd like to hear the other candidates talk about.
"I thought about writing in Bill Clinton," Schlosser said.
Weathering the vote
In Kansas, advance voting began Oct. 13. It closed at noon Monday.
The Lawrence-area weather forecast for today predicts cloudy skies and windy conditions with a high of 48.
The weather was a question in other parts of the state, with a mix of rain and snow forecast for southwest Kansas and a chance of showers in south-central Kansas, according to the National Weather Service.
Secretary of State Ron Thornburgh said he didn't expect weather to affect state turnout significantly. He predicted a record 1.29 million Kansans would cast ballots -- 76 percent of those registered. Turnout four years ago was 67 percent.
"Kansans are a hardy breed," he said. "A little bit of rain is not got going to keep us from voting."
Copyright 2018 The Lawrence Journal-World. All rights reserved. This material may not be published, broadcast, rewritten or redistributed. We strive to uphold our values for every story published.