The way Karen McGrath figures it, a nice row of White Profusion Butterfly bushes, a patch of perennial maiden grasses or a well-kept pool of water lilies can speak volumes about a restaurant, office building or any other business in town.
Call it an investment that pays off.
"Honestly, if you see a business like that, it makes an impression," said McGrath, an avid gardener. "If I see a business that's well-kept on the outside, I assume that their employees and operations are professional and organized. It makes an impact."
Next month, 10 such businesses will be the first recipients of Lawrence Commercial Landscape Awards, sponsored by the Extension Master Gardeners of Douglas County.
The awards honor business owners who make the commitment to create and maintain beautiful landscaping displays outside their businesses, said McGrath, a master gardener and member of the awards committee. Winners will receive their awards during a luncheon June 21.
Scott Zaremba, whose Zarco 66 service station at Ninth and Iowa streets made the list, credits his parents for the recognition. Stan and Lois Zaremba have been sprucing up the family's service stations since they started business 37 years ago, and today still take the time to clean up ponds, fertilize flowers and trim bushes.
"We like to do things in the community that help improve our community and make it look as good as we can," said Scott Zaremba, president of the company that has six stations. "That's why we spend the time, money and effort on landscaping. It's not only good for business. It's good for the community."
Across town, Sue Shea beams with pride as she discusses the proliferation of plant life outside her boss' office building at 4828 Quail Crest Place. Dr. Daniel Ranjbar spent months researching appropriate plantings for the site, as he prepared to build a new home for his orthodontics office.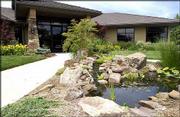 Today, children stop to watch goldfish swimming in the building's lily pond, flanked by Japanese maple trees, purple fountain grass and a colorful array of daylilies and other plant varieties with names like Persian Shield and Russian Sage.
"All this hard work -- it's paid off," said Shea, an avid gardener who shares landscaping chores with Ranjbar.
"There are other businesses that could do this easily. It just takes time -- a little after work, on weekends. You have to do more than just walk in and out of the building."
The master gardeners plan to create a brochure listing this year's winners, with information about each site. The brochures are expected to be available in time for the luncheon, and will be distributed through the extension office, garden centers, hotels and other businesses.
Ten businesses are winners of the first Lawrence Commercial Landscape Awards, to be granted June 21 by the Extension Master Gardeners of Douglas County:¢ Dr. Daniel Ranjbar, 4828 Quail Crest Place.¢ Golf Course Superintendents Association of America, 1421 Research Park Drive.¢ Lawrence Presbyterian Manor, 1429 Kasold Drive.¢ Clinton Parkway Animal Hospital, 4340 Clinton Parkway.¢ Rock Chalk Car Wash, 1215 E. 23rd St.¢ Java Break, 17 E. Seventh St.¢ Zarco 66 No. 3, 900 Iowa.¢ McDonald's, 1309 W. Sixth St.¢ Tuckaway Apartments, 2600 W. Sixth St.¢ Stone Creek, 3801 W. Sixth St.
Copyright 2018 The Lawrence Journal-World. All rights reserved. This material may not be published, broadcast, rewritten or redistributed. We strive to uphold our values for every story published.