Karen Hill is sad these days.
She recently learned her priest, the Rev. Charles Polifka, is leaving Lawrence to serve as pastor of several small-town parishes near Hays.
"Actually I heard about it last Friday at the all-school Mass from one of the moms. There's been a lot of rumors about it the last few weeks," says Hill, a parishioner at St. John the Evangelist Catholic Church, 1234 Ky.
"We're very sad to see him go. Father Charles is such a unique individual. He really has a gift to speak to people. We look forward to going to Mass on weekends, just to hear him talk. He always has a great message; sometimes I feel like he's speaking right to me."
Hill isn't the only Catholic in Lawrence who's struggling with shock and sadness. The priestly leadership of the city's two Catholic parishes and the Catholic campus ministry to the Kansas University community is undergoing what appears to be an extraordinary amount of change, at least for Lawrence.
And thousands of Catholics will be affected by the loss of familiar -- and beloved -- faces at the altar.
Both Polifka, pastor of St. John since 1995, and the Rev. James Shaughnessy, who has served for 12 years as pastor of Corpus Christi Catholic Church, 6001 W. 15th St., will leave Lawrence in July to assume leadership of other Kansas parishes.
The Rev. Vince Krische, director of St. Lawrence Catholic Campus Center, 1631 Crescent Road, for the past 27 years, will begin a six-month sabbatical in June. He will be away from Lawrence until early January.
Priests come and go -- that's part of life at any Catholic church -- but that doesn't make it any easier for Lawrence Catholics who have to deal with the changes.
"We're trying to come to peace with it. I will miss Father Charles terribly," says Susan Campbell, administrative assistant at St. John.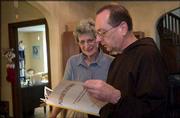 "He gets people involved, he makes people laugh and he's so good at pastoral care. But the parish is the people, so we have to maintain all those great things he started."
Moves serve larger needs
The fact new priestly assignments have affected both of Lawrence's Catholic parishes and the campus ministry to KU seems unusual.
"It certainly is. I couldn't believe it, oh my gosh ... I was surprised -- (it's) the whole city," says Krische.
"The priests that are coming (to replace Polifka and Shaughnessy) are great. But it's going to take a while to settle in."
Shaughnessy says Lawrence Catholics likely aren't used to so much change among the city's priests at one time.
"It's probably unusual for Lawrence, but not that unusual around the country with the priest shortage," he says.
"This was a bigger year (for priestly assignments) across the archdiocese, but it wasn't the biggest year we've had in the last five or 10 years."
Polifka isn't sure Lawrence's loss of him and Shaughnessy at the same time is remarkable.
"I suppose it is unusual. I don't know what to make of it; I really haven't given it much thought," he says. "When you have a town with three parishes (St. Lawrence is actually a campus ministry), that possibility exists."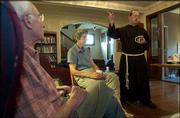 Krische, whose sabbatical is timed to coincide with the 40th anniversary of his ordination as a priest, explains why the archdiocese makes such moves.
"Usually they try to change (priests at parishes) every 10 to 12 years. Sometimes a priest requests a change that they would like to make; priests are given an opportunity to express that every year," he says.
Parishes in an archdiocese have different needs, such as Catholic schools to run or building projects to oversee, and these must be taken into consideration, too.
"We are sent, rather than called, meaning that the archbishop sends us where he needs us," Krische says.
It's much the same within the Order of St. Francis Capuchins, according to Polifka, a Capuchin friar.
"It's not moving for moving's sake. It's moving to make an overall vision of our religious community, to make it work," he says.
Change can be good
Catholics at St. Lawrence can take comfort knowing Krische will return to lead them when his sabbatical ends.
But those who attend St. John and Corpus Christi don't have that luxury. They will have to get used to new priests for the long term, while saying goodbye to pastors they have grown to love and admire.
"As far as Father Jim leaving, I personally hate to see him go," says Kirby Schmelzle, a Corpus Christi parishioner.
"But he's going to Frankfort, close to home (for Shaughnessy, an Axtell native), and I think he kind of wanted to do that. His parents are getting up there (in age), so I think it's a nice move for him."
Corpus Christi parishioner Doug Vickers is taking a positive view of Shaughnessy's new assignment.
"Father Jim's just a wonderful person, but he's very shy. His element is not that big church on the hill there. He's a farm guy -- his element is where he's going, those farm parishes (in Frankfort and Blue Rapids)," Vickers says.
"He's most happy at Corpus Christi when he's on the tractor cutting grass or plowing snow. He will flourish in these smaller communities. He will have less stress and be more himself."
Shaughnessy acknowledges that losing a favorite priest can be hard for people.
"I guess it is in some ways, but a change is probably also good. Someone comes in with a little different approach, and that's probably good for the community," he says.
Polifka urges his parishioners to step back and take a larger view of his impending departure.
"I would hope that people can go beyond that and see that the faith is more than just the individual priest. It's the total community together that is the Body of Christ, and that's the important thing to remember," he says.
Copyright 2018 The Lawrence Journal-World. All rights reserved. This material may not be published, broadcast, rewritten or redistributed. We strive to uphold our values for every story published.