OAKLAND, CALIF. — Jeremy Affeldt entered the ninth inning needing just three outs for Zack Greinke to win his major-league debut.
Two outs and two strikes on Eric Chavez later, Greinke was one pitch away from a victory.
Then Affeldt made a big mistake. Chavez's two-run home run tied the score at 4, then Bobby Crosby's infield single in the 11th inning gave the Oakland Athletics a 5-4 victory Saturday over the Kansas City Royals.
The highly touted, 20-year-old Greinke nearly beat former Cy Young award winner Barry Zito.
"That's the worst possible time to give that up," said Affeldt, who had four saves for the Royals last year. "When it happened, my heart just went out of me. It was pretty devastating. You want to try and get the kid the win, and it doesn't happen. It's frustrating. Right now it seems like the hole can't get any deeper."
Crosby followed an intentional walk to Erubiel Durazo with his RBI hit.
"You want to make them feel like they screwed up when they walk the guy ahead of me," Crosby said. "That makes me mad, and I'm going to try to get them. The guy did the wrong thing."
Jermaine Dye, who entered the game as a pinch hitter in the ninth, made a clutch catch in the top of the 11th and then singled with one out in the bottom half to start the rally.
Chavez tied it with his two-out, two-run homer off Affeldt, making his first relief appearance after eight starts.
"I had an opportunity earlier and couldn't do it, but I made the most of the next one," Chavez said. "I was disappointed not to bring in the run in the fifth, so I was happy to get another chance. I got a good pitch and put a good swing on it."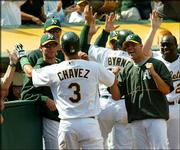 The Royals have lost nine straight to Oakland, including all five games this year, but they had chances to win Saturday.
Joe Randa opened the 11th with a double and went to third on Benito Santiago's sacrifice. After Brandon Berger fouled out, Desi Relaford hit a towering fly into right that Dye caught on the warning track and held on to as he crashed into the wall and fell to the ground.
In the bottom half, Dye and Scott Hatteberg singled and Durazo was walked intentionally by Scott Sullivan (3-1) ahead of Crosby's winner, which Relaford tracked down behind second but had no chance at getting the speedy Crosby.
"Maybe if the throw is right on the money I have a chance," Relaford said. "But it was on the shortstop side of the bag and after it hit the mound it started spinning away from me. It was perfectly placed."
Mike Sweeney homered, and Berger hit a two-run double for Kansas City. Angel Berroa added an RBI single for the Royals, who have lost 15 of their last 21 games.
Justin Duchscherer (2-1) pitched the 11th for the win.
Durazo homered for Oakland, which extended its winning streak to a season-high four and has won 10 of 12.
Zito is unbeaten in eight career starts against the Royals, but he's yet to win at home this season.
Greinke went five innings, allowing two runs on five hits with a walk and strikeout. On a strict pitch count, Greinke came out after throwing 84 pitches.
He did manage to escape a threat in the fifth. With two outs, Mark McLemore doubled, Eric Byrnes was hit by a pitch and Billy McMillon walked. Greinke got Chavez to ground out to second to end the inning.
"I threw it as slow as I could because he was on everything I threw as fast as I could," Greinke said. "The atmosphere was great here and the fans got loud there. It was pretty exciting."
Chavez also grounded out with runners on second and third in the seventh.
"Not everything is perfect but I expect to be in a groove," Chavez said. "To do that I have to be more consistent."
Zito lasted seven innings, giving up four runs on seven hits with two walks and seven strikeouts.
"It was a strange game," Zito said. "I gave up that many runs and we were still in it."
Sweeney's sixth home run of the season, a shot into the left-field bleachers on the first pitch he saw leading off the fourth, gave the Royals a 1-0 edge.
Berger's two-run double put Kansas City in front in the sixth. Ken Harvey doubled and Randa walked. With two outs and a full count, both runners scored easily when Berger hit the ball off the left-field wall.
Notes: Reggie Jackson's No. 9 was retired by the A's before the game. ... Royals OF Juan Gonzalez sat out because of tightness in his lower back. ... RHP Shawn Camp was optioned to Triple-A Omaha to make room for Greinke. ... McMillon started for just the sixth time all season. ... The A's recorded their 3,000th win in Oakland history and now have a record of 3,000-2,744 since coming to the area in 1968.
Copyright 2018 The Associated Press. All rights reserved. This material may not be published, broadcast, rewritten or redistributed. We strive to uphold our values for every story published.