EAST RUTHERFORD, N.J. — Nothing deterred the Detroit Pistons -- not their three straight losses, their three-overtime heartbreak or an early double-digit deficit -- from forcing a Game 7 against the New Jersey Nets.
Richard Hamilton pump-faked Jason Kidd off his feet and drilled a clutch 18-footer with 15.5 seconds remaining, capping a 24-point performance that kept the Pistons' season alive.
Hamilton's shot, Ben Wallace's rebounding and the Pistons refusal to quit added up to an 81-75 victory Sunday night, evening their Eastern Conference semifinal series at three games apiece.
"We knew what kind of game this was going to be, what kind of environment this was going to be. We knew it was tonight or it's over," Pistons guard Chauncey Billups said.
After two blowout victories and one close win for each team, the series will be decided on the Pistons' home court.
Game 7 is Thursday night, the winner advancing to the Eastern Conference finals beginning Saturday. New Jersey will be looking to make it there for the third straight year, while Detroit will try to get there for the second consecutive season.
"We let an opportunity go, but it's not the end of the series," Kidd said.
Hamilton was the most productive member of Detroit's offense for the second time in three games, the Pistons choosing to attack whichever player Kidd was defending.
Ever since Nets coach Lawrence Frank switched Kerry Kittles onto Billups in Game 3, Kidd has been the primary defender on Hamilton -- a matchup that favors Detroit.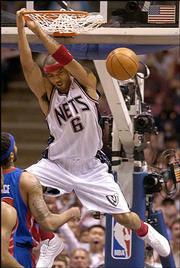 "I know he expends so much energy on the offensive end -- he's the catalyst for that team, he's got to score, pass and rebound, so I just tried to make him work on the defensive end," Hamilton said. "I think I'm in the best shape in the league running-wise -- I can run forever.
"I kept pushing and pushing -- nobody wants to go home."
His final shot capped an 11-for-24 performance that also included five rebounds and four assists. Rasheed Wallace added 14 points, Ben Wallace grabbed 20 rebounds -- all in the first three quarters -- and Billups added 11 to lead an otherwise anemic Pistons offense.
"It's an accomplishment," Rasheed Wallace said. "Nobody (is) in here with pompoms jumping up and down like we won the World Series or something like that. We've still got to stay composed because there's still one game left."
The Nets got 23 points from Richard Jefferson and 19 from Martin, but Kidd scored just 11 and made several bad plays in the final three minutes.
New Jersey had three chances to tie it when trailing 72-70, but Kidd threw his second straight bad pass, the Nets committed a 24-second violation, and Martin couldn't draw iron on an inside shot with 1:45 remaining.
It'll be the first Game 7 for the Nets in the franchise's NBA history.
Copyright 2018 The Associated Press. All rights reserved. This material may not be published, broadcast, rewritten or redistributed. We strive to uphold our values for every story published.