Baghdad — Iran's supreme religious leader, Ayatollah Ali Khamenei, weighed in on the side of anti-American Shiite rebels in Iraq, chastising the United States for "stupidity" and "shamelessness" for its actions across the southern part of the country.
Khamenei's remarks, made in a speech to theology students and broadcast on Iranian radio, were the first harsh criticism issued by Iran about the ongoing U.S. offensive against forces loyal to Muqtada al-Sadr, a young Shiite cleric wanted by U.S. forces on murder charges.
The coalition is trying to disband al-Sadr's army and sideline its radical leadership before handing power to a new Iraqi government. American forces and al-Sadr fighters fought heavy battles in recent days in the southern holy cities of Najaf and Karbala.
Shortly after Khamenei spoke, about 100 students threw rocks at the British Embassy in Tehran, and burned the British and Israeli flags.
Meanwhile, U.S. officials reported that a U.S. soldier died late Sunday of wounds sustained during a firefight in an unspecified city in the south.
In Basra, the largest Shiite city in Iraq, insurgents firing at a British camp hit a house instead, British officials said. The blast killed four Iraqi civilians, including 2-year-old twins, news services reported.
A female translator working with U.S. troops was killed and another was critically injured when gunmen broke into their houses in Mahmoudiyah, about 20 miles south of Baghdad, said Dawood al-Taee, director of the city's hospital.
And in Baghdad, gunmen fired at a mini bus carrying five female employees of the U.S.-led coalition authorities. Two women were killed, and a third lost her eye. As the survivors fled, the insurgents blew up the bus. Its twisted remains stood abandoned in front of the Daura neighborhood police station all day Sunday. "What can we do about this?" asked Capt. Ali Omran, who was in charge of the station. "We get shot at ourselves."
In the year since the fall of Iraqi president Saddam Hussein, Iran's position toward the U.S.-led invasion and occupation has had two sides. The Supreme Council for the Islamic Revolution in Iraq, or SCIRI, an Iraqi group that is largely cooperative with the United States, has the support of Iranian President Mohammed Khatami. SCIRI, along with Ayatollah Ali Sistani, Iraq's most respected religious authority, have urged the U.S. forces and al-Sadr and his militia to withdraw from Najaf.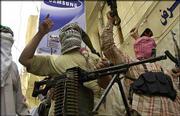 But al-Sadr, who has recruited loyalists from among the legion of poor Shiite youths in Iraq, is financed by an ayatollah in the religious city of Qom in Iran. The ayatollah, Kazem Haeri, is backed by officials of the Revolutionary Guards and Iranian intelligence agencies, U.S. and Iraqi officials say.
Khamenei, in his speech Sunday, accused U.S. troops of firing on and hitting the golden dome of the Ali shrine, which is dedicated to the first Shiite imam. "Muslim people, particularly Shiites, in their own country or in Iraq, in various Iraqi cities or in other parts of the world, will not remain silent at this American encroachment," he said.
Khamenei also criticized the operation of Abu Ghraib prison, where U.S. guards abused Iraqi prisoners. "You have not closed Saddam's torture chambers. You have replaced Saddam," he said.
"The Americans are trapped," he said. "There is nothing they can do. They will fail if they continue on this path, and they will fail if they pull out."
Other developments
Also Sunday:
l Secretary of State Colin Powell blasted Arab governments Sunday for not expressing more outrage over the videotaped beheading of an American civilian in Iraq.
Powell said he had made clear, specifically to Arab leaders, that systematic torture of prisoners is unacceptable anywhere. Yet, he said, their denunciation of the killing of Nicholas Berg, kidnapped while in Iraq seeking business for his Pennsylvania communications company, fell far short of their attacks on the United States for the treatment of detainees at Baghdad's Abu Ghraib prison.
The beheading of the 26-year-old was broadcast on an Islamic militant Web site. U.S. intelligence officials have concluded that terrorist leader Abu Musab al-Zarqawi was the masked person shown decapitating Berg with a large knife.
Powell, interviewed from Jordan, said he has told Arab leaders, "When you are outraged at what happened at the prison, you should be equally, doubly outraged at what happened to Mr. Berg."
l Washington wants to move some of the 37,000 U.S. troops stationed in South Korea to Iraq, South Korean officials said Monday.
Copyright 2018 The Lawrence Journal-World. All rights reserved. This material may not be published, broadcast, rewritten or redistributed. We strive to uphold our values for every story published.