Cambridge, Mass. — After months of eager anticipation mixed with nagging worries that this day may never come, gay couples across Massachusetts and beyond converged Sunday night on Cambridge to apply for the nation's first state-sanctioned same-sex marriage licenses.
At 12:01 a.m. EDT today in this city across the Charles River from Boston, the first of several dozen couples who lined up outside City Hall in the rain early Sunday was called into a basement corridor to declare their intention to marry.
By 10 p.m. Sunday, more than 1,000 people -- including couples waiting in line and their supporters throwing rice and confetti -- were gathered outside City Hall, along with fewer than a dozen protesters.
At 10:30 p.m., couples began receiving numbers to determine the order in which their applications would be processed, and an hour later 230 couples had passed through the front doors.
Marcia Hams, 56, and Susan Shepherd, 52, of Cambridge, who have been together for 27 years, were the first couple to line up, at midnight Saturday, and were the first to apply for a marriage license.
"I feel real overwhelmed, real happy," Shepherd said. "I could pass out at this point." Hams and Shepherd plan to marry next Sunday.
The city also organized a celebration, complete with live music and speeches from activists, and a giant wedding cake that was cut after the stroke of midnight.
An interfaithservice called "Blessings on the Eve of History" to commemorate the start of gay weddings was conducted in Cambridge's Christ Church on Sunday evening.
During a sermon praising what he called "the triumph of freedom over oppression," the Rev. Steven Charleston said opponents of gay marriage say it will end civilization as they know it. "Perhaps they're right," he said to wild applause.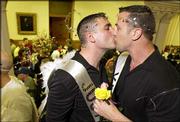 Cambridge Mayor Michael A. Sullivan, whose city is the only one in the state that started the process the minute it became legal, said: "We're a diverse and accepting community, and this is a way to welcome the couples and their families. That's what it's all about. It's not a race. It's about fairness and equality."
The landmark 4-to-3 ruling by the state Supreme Judicial Court in November deemed unconstitutional a ban on gay marriage. It was stayed for 180 days to give the state time to prepare.
In recent months, a host of challenges to the decision have been beaten back in the courts, including a request for a federal injunction that the U.S. Supreme Court denied Friday. An Appeals Court will hear the matter in June.
Copyright 2018 The Lawrence Journal-World. All rights reserved. This material may not be published, broadcast, rewritten or redistributed. We strive to uphold our values for every story published.