Kansas City, Mo. — When the Kansas City Royals invited country superstar Garth Brooks to spring training as part of a charity promotion, they had no idea one of his hit songs would come to define the opening weeks of their season.
But here they are: Brooks' "Friends in Low Places."
The Royals, who expected nothing but good things this year after their turnaround season in 2003, enter today's game against Oakland in the AL Central cellar because of an 11-23 record.
They took two of three games from Toronto earlier in the week, but that was just their second series win of the season and the first time since April that they posted back-to-back wins.
"When you lose, everything goes down," center fielder Carlos Beltran said. "Your morale goes down. Your confidence goes down."
It wasn't supposed to be like this, though.
The Royals began the 2003 season on a 19-3 tear. And although injuries kept them from maintaining that pace, they still finished 83-79 after losing a club-record 100 games in 2002.
Manager Tony Pena, whose "We Believe!" became the city's mantra as well as the team's, unveiled a new slogan for 2004: "Together We Can."
And in front of the largest opening-day crowd ever in Kansas City -- with Brooks among the cheering thousands -- the Royals rallied for six runs in the ninth inning for a 9-7 victory over the Chicago White Sox.
It was the biggest ninth-inning comeback on opening day since 1901. Beltran, whose two-run homer won the game after Mendy Lopez's three-run shot tied it, called the rally the greatest moment of his career.
Kansas City won three of its next five, then dropped six straight. The Royals haven't been near .500 since.
So what went wrong?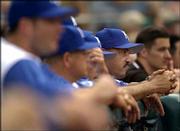 For one, the Royals' starters largely have been ineffective.
As of Thursday, relievers Shawn Camp, Nate Field and Scott Sullivan led the team with 2-0 records.
The rotation had fewer victories than members: Entering Saturday's game, Jimmy Gobble was 1-2 after a loss to the Athletics on Friday night, Brian Anderson and Darrell May each were 1-4 and Jeremy Affeldt was 0-3.
Anderson's earned-run average was 7.15, and May's was 6.40.
"It's not like I'm going to invent a new pitch or come up with a completely different approach -- start throwing right-handed or submarine style," Anderson said. "I've played this game long enough that I know what I need to do, and I'm doing that stuff -- and it's just not happening."
When Kansas City does get a quality start, the bullpen often can't protect it. The Royals have blown seven of 11 save situations, and Curtis Leskanic (0-3, 12.96 ERA) and Mike MacDougal (0-1, 10.80) each have been ineffective in the closer's role.
Help from outside the organization is unlikely to come anytime soon, general manager Allard Baird said this week.
"It's tough to match up with any club" for a trade, Baird said. "Clubs that have guys they feel are doing their jobs, even if they're not contending clubs, they feel it's too early to tell their fans they're out of this thing."
The Royals also miss outfielder Raul Ibanez, a fan favorite and one of the key components in last year's resurgence.
In his last season with Kansas City before returning to Seattle as a free agent, Ibanez hit .294 with 18 homers and 90 RBIs. Beyond that, he was a steady, positive clubhouse influence -- something for which his replacement, Juan Gonzalez, never has had a reputation.
"He was a great player and a great person to have around the clubhouse," Beltran said of his former teammate. "He was a guy who would go out and battle every single day, and you knew he was going to be there for you day in and day out.
"We really miss him, but at the same time you have to go out and perform with the guys who are here now."
Timely hitting is another concern.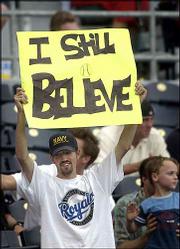 The Royals are batting .292 with runners in scoring position -- fourth best in the AL -- but that's still significantly lower than last year, when they scrapped and scratched their way around the bases and hit a league-best .304 with runners in scoring position.
"We have to create runs," Beltran. "That's our game. We have guys who have power, but we're not hitting the way everyone expected."
Still, there are bright spots.
Beltran, who is in the last year of his contract and has not said whether he intended to re-sign with the Royals, is hitting .309 with 10 homers and 28 RBIs.
Ken Harvey, who largely has taken over first base from Mike Sweeney, is among the league leaders with a .340 average.
And the Royals still play in the AL Central, where 90 wins could be enough to put a team in the postseason.
"Nobody's running away with this division," Field said. "We've got as good a chance as anyone else. We just started slower."
Kansas City would have to go 79-53 during the remainder of the season to hit the 90-win mark -- a challenge, Sweeney said, but an attainable one.
"We just need to play good baseball from here on out," said Sweeney, who hit a two-out, two-run double in the ninth inning of Wednesday's 4-3 win over Toronto. "We don't need to get in first place by the end of May. We start playing our baseball, we get close and we'll be fine."
Copyright 2018 The Associated Press. All rights reserved. This material may not be published, broadcast, rewritten or redistributed. We strive to uphold our values for every story published.