In Kansas University's softball game against Iowa State, one team was playing for pride and one team had a lot to lose -- a first-round Big 12 Conference tournament bye, to be exact.
Unfortunately for the Jayhawks, they picked the worst time to snap their three-game win streak, falling to the last-place Cyclones, 3-2, Saturday at Arrocha Ballpark.
The loss guaranteed Kansas a seventh-place finish in the Big 12, meaning KU must win a play-in game at 5 p.m. Wednesday. If the Jayhawks (30-26, 6-11) had won Saturday to finish sixth, they would have avoided the first round.
"It's real disappointing," Bunge said. "You have to give a lot of credit to Iowa State. This type of weekend is all about pride for them. They came out and played exceptionally well."
The Cyclones (13-29, 3-12) didn't look like conference cellar-dwellers, crushing 10 hits and rattling freshman pitcher Kassie Humphreys.
"They were just hitting a lot of my mistakes," Humphreys said. "They were just aggressive."
Kansas had a hot start, scoring two runs off five hits in the bottom of the second inning. Designated player Serena Settlemier smashed an Alyssa Ransom pitch off the left-field wall to bring home Mel Wallach, then Settlemier scored on a Jessica Moppin single.
Then it was the Cyclones' turn. Iowa State scored first when catcher Ashley Killeen ripped a double to dead center field, scoring Cary Atkins.
"We didn't play poorly," Bunge said. "We just kind of tightened up when they came back."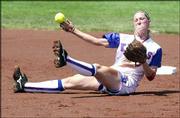 In the fourth, ISU designated player Kim Rodgers exploded on a Humphreys pitch for a solo shot to straightaway center. When Fallon Johnson doubled off the wall for an RBI double, Bunge had seen enough from her freshman pitcher.
KU senior pitcher Kara Pierce provided a bright spot for the Jayhawks, giving up only three hits and recording five strikeouts in relief.
"She came in and did exactly what a relief pitcher has to do," Bunge said.
Ransom (10-17) earned the complete-game win; Humphreys (14-11) took the loss.
Kansas will close out its regular season against Iowa State at 1 p.m. today. The Jayhawks have nothing to play for in the standings, but for the seniors' last home game, they have plenty of motivation.
"Tomorrow is a game you play for pride," Bunge said, "just like Iowa State did here."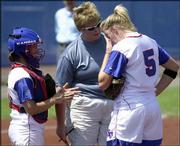 Copyright 2018 The Lawrence Journal-World. All rights reserved. This material may not be published, broadcast, rewritten or redistributed. We strive to uphold our values for every story published.