Topeka — The Kansas Legislature worked into the night Friday on school finance amid mounting frustration and an approaching deadline.
The House trashed a $94 million plan that would have increased the state sales tax, dipped into cash reserves and allowed five property wealthy districts, including Lawrence, to increase local property taxes to offset higher costs of living.
The measure was defeated 101-15.
Earlier, the Senate rejected, 21-18, a $109 million increase that would have raised state sales and income taxes, and some local property taxes, including the Lawrence district.
"Every time we vote, we eliminate some options," House Speaker Doug Mays, R-Topeka, said.
At press time, a plan was proposed by Senate negotiators for an $82 million school funding increase that would be paid for through a complex transfer of monies that would ultimately come out of the state highway fund.
Sebelius hopeful
Earlier in the day, as lawmakers shuttled back-and-forth to discuss new proposals, Gov. Kathleen Sebelius said she believed a compromise was within reach as the 2004 Legislature winds down. Two days remain in the 90-day session.
"I remain hopeful that the Legislature will indeed do the responsible thing, do the job they were sent here by voters to do, and make sure that we don't look at drastic cuts in school districts across the state of Kansas," Sebelius said.
Sebelius, fellow Democrats and moderate Republicans have supported tax increases for schools.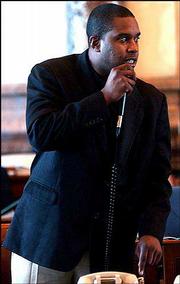 But getting a majority in the House and Senate to approve a mixture of tax increases, funding targets and other school issues has proved elusive all year.
The debate has taken place under the cloud of a state court ruling that found the Kansas school finance system unconstitutional because it underfunds all students, especially minorities. The case is being appealed to the state Supreme Court.

Various plans
The plan that was debated in the House would have increased the state sales tax from 5.3 cents per dollar to 5.5 cents per dollar, and taken $25 million from the state's cash reserves.
But several Democrats and moderate Republicans said the raid on the cash reserve would have jeopardized the state's bond rating.
In the Senate, the proposal debated would have increased the state sales tax from 5.3 cents per dollar to 5.45 cents per dollar, and added a 2.5 percent surcharge on individual state income tax. It also would have allowed school districts that are assessing the maximum of local school property taxes, such as Lawrence, to have increased that amount.
Opponents said the plan would hit low-income Kansans the hardest.
"What we are doing is cold-hearted to the poor of our state, uncaring for the downtrodden and insensitive to the people who are unemployed," said state Sen. James Barnett, R-Emporia.
Topeka -- The Kansas House on Friday adopted a resolution in memory of Emily Taylor, citing her advocacy for the equality of women."She was a rare gem," state Rep. Barbara Ballard, D-Lawrence, said. "She tried to make a difference."Taylor, who died May 1 at the age of 89, was a leading educator and served in many high-ranking positions in education and public service.Taylor was dean of women at Kansas University from 1956 to 1975, and the Emily Taylor Resource Center at KU was named in her honor. Ballard is a former director of the center.
But supporters said the proposal would help the poor by providing schools with enough money to avoid cuts in programs and services.
"If we do not fully fund our education system so that students can learn the arts, and be a part of band and orchestra, where will the students be? Or do we want to fill up the prisons?" said state Sen. Donald Betts, D-Wichita.
Under the plan, a family of four earning $40,000 per year would have seen a $73 increase in statewide taxes for the year, or about $6 per month, according to state Sen. John Vratil, R-Leawood.
"That's what this will cost to provide our school districts with enough resources to prevent personnel cuts, elimination of programs, elimination of services. Most families throw away more than $6 per month," Vratil said.
In most plans that have been considered so far, increased funding would have gone to boost base state aid, programs for students at risk of failing, students learning English and special education.
Last-minute bond bill
In other business, the Legislature approved a bill that would authorize the Kansas Development Finance Authority to issue bonds on behalf of profit or not-for-profit companies to build hospitals and research facilities.
The measure was hotly debated in the Senate after several members noted that it would allow the Finance Authority to authorize bonds for out-of-state projects.
Vratil and Sen. Ed Pugh, R-Wamego, said the bill was too broadly written.
"It don't look right to me and it don't smell right," Pugh said.
But state Sen. Karin Brownlee, R-Olathe, who chaired the committee that worked on the bill, assured lawmakers there was no hidden agenda to pass the bill.
"We believe it was reasonable," she said.
It now goes to Sebelius for consideration.
Copyright 2018 The Lawrence Journal-World. All rights reserved. This material may not be published, broadcast, rewritten or redistributed. We strive to uphold our values for every story published.