AUBURN HILLS, MICH. — Chauncey Billups flicked his wrist and sent a high-arching three-pointer through the air. Jason Kidd, standing helplessly in the lane, followed the flight of the ball as it went through the net.
It was a sight he saw often.
Billups scored 28 points and had a career-playoff high 13 assists, lifting the Detroit Pistons to a 95-80 win Friday night over the New Jersey Nets, and a 2-0 lead in their Eastern Conference semifinal.
"They kept making shot after shot, you look up and all the sudden you're down 12," Kidd said.
Richard Hamilton, Billups' backcourt partner, also scored 28 points as Detroit's guards outscored New Jersey's -- Kidd and Kerry Kittles -- 56-14.
Billups and Hamilton made 18 of 33 shots. Kidd and Kittles were 5-for-22.
"When we can get it going like that, we're tough to beat because we know our big men are going to do the dirty work," Billups said.
Rasheed Wallace had 15 points and three blocks, and reserve Corliss Williamson had 11 for the Pistons, who took control of the game by outscoring the Nets 27-11 in the third quarter. Ben Wallace had eight points, 11 rebounds and four blocks.
Game 3 of the best-of-seven series is Sunday night in New Jersey.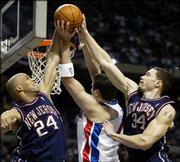 Detroit's victory in Game 1 snapped the Nets' streak of 14 consecutive postseason victories against Eastern Conference teams, dating back to the first round last year. The streak included a sweep of the Pistons in the conference finals.
The two-time Eastern Conference champion Nets are trailing a playoff series 2-0 in the East for the first time since adding Kidd before the 2001-02 season.
"There's a first for everything," Kidd said. "We've come a long way in three years. We've had some success, now this is a bump in the road and we'll see how we handle it."
Just seven teams in NBA history have won best-of-seven series after trailing 2-0.
New Jersey's Kenyon Martin, who had 19 points and eight rebounds, fouled out with 1:10 left. Richard Jefferson also had 19 and Rodney Rogers scored 11 off the bench. Kidd had 11 assists.
Copyright 2018 The Associated Press. All rights reserved. This material may not be published, broadcast, rewritten or redistributed. We strive to uphold our values for every story published.