HALSTEAD — Shocked by allegations their son may be connected to the deadly Madrid train bombings, the family of a Kansas native arrested as a material witness accused investigators Friday of overzealousness and religious profiling.
"He's innocent and he's another victim of the Patriot Act and people ought to be examining that awfully closely," said AvNell Mayfield, the mother of 37-year-old Brandon Mayfield. "If it can happen in my family, it can happen to anyone, anywhere."
A former Army officer who converted to Islam, Mayfield was arrested Thursday by FBI agents, who also searched his home in the Portland, Ore., suburb of Aloha. His arrest was the first known detention of a U.S. citizen in connection with the March 11 commuter train attack in Madrid, which killed 191 people and injured 2,000 others.
"He is as American as I am," said his father, Bill Mayfield. "He has no connection to anything over there. None."
But the Spanish government said Friday that Mayfield's fingerprints were found on a plastic shopping bag containing detonators like those used in the Madrid bombings. It was a charge rejected by his family, who said Mayfield hadn't been out of the country in 10 years.
"They picked him out because they wanted someone who fit this profile," Bill Mayfield said. "This was the closest they had, and he was a Muslim."
Mayfield grew up in and around Halstead, a small farming town about 30 miles north of Wichita where much of his family still lives, and attended law school in Topeka after serving in the Army.
Professor Ali Khan, who teaches international law at Washburn University School of Law, said Mayfield helped organize a Muslim Student Assn. in 1998.
Khan, a native of Pakistan, was the group's adviser and worked closely with Mayfield.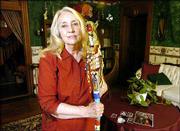 "I am truly surprised and horrified that he has been implicated in this crime," Khan said. "He was a very gentle, nonassertive man, a man with a family. You would not think this man could have a terrorist connection. That would not be in your wildest imagination."
Mayfield was not a fundamentalist or fanatic, Khan said, having converted to Islam before he began his studies at Washburn. He said he had been happy that Mayfield connected his religion with his legal studies.
"I think his Islam was much more liberal and infused with Kansas and American values," he said.
Family members said Mayfield converted because his wife, Mona, was Muslim.
"She wasn't practicing. When they started having children, he thought they should have some religion to have the family focus on," said his stepmother, Ruth Alexander, who lives in Halstead.
Copyright 2018 The Associated Press. All rights reserved. This material may not be published, broadcast, rewritten or redistributed. We strive to uphold our values for every story published.