Washington — President Bush and Democratic rival John Kerry are virtually tied in their race for state electoral votes as a crush of political problems has prevented either candidate from breaking open the contest.
Six months before Election Day, Bush controls or has an edge in 24 states that account for 205 electoral votes, 65 shy of the 270 needed to win the wide-open race. The Democratic challenger has the advantage in 14 states plus the District of Columbia for 205 electoral votes.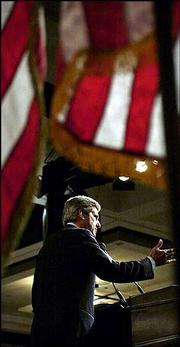 In the dozen remaining states (128 electoral votes), the contest is either tied or there's no adequate polling, according to an Associated Press review of public and private surveys as well as analyst interviews in key states.
"The country is so polarized. The president has done nothing to sway Democrats and moderates to his point of view," said pollster Ed Sarpolus. "Kerry has to be pleased that it's still close, despite the fact that the president started out with such an advantage."
The electoral picture has changed little since Kerry secured the Democratic nomination two months ago. While the Democrat appears to have made gains in Michigan, Minnesota and Wisconsin -- three "tossup" states with 37 electoral votes -- Bush has countered with leads in West Virginia (5 votes) and Arizona (10 votes).
All five states are still in play and will likely remain fluid.
In addition, one state considered solidly Democratic two months ago -- New Jersey (15 votes) -- appears to be closer than expected. Two states thought to be firmly GOP -- Colorado (nine votes) and Louisiana (nine votes) -- also are in play.
However, even most Republicans believe New Jersey is still a long shot for Bush, while many Democrats feel the same about the South for Kerry.
"I don't think a Massachusetts liberal is going to carry Louisiana," said Jim Duffy, a Democratic strategist from Washington.
An AP-Ipsos poll suggests the race is tied nationwide, with Bush's support at 46 percent, Kerry at 43 percent and independent Ralph Nader at 7 percent. Nader tilts the race toward Bush in at least a half dozen states, according to separate polling.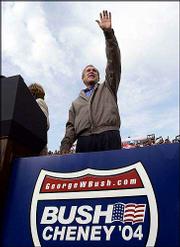 Copyright 2018 The Associated Press. All rights reserved. This material may not be published, broadcast, rewritten or redistributed. We strive to uphold our values for every story published.