SAN ANTONIO — Tony Parker gave the San Antonio Spurs a big cushion early, and when the Los Angeles Lakers made a move it was Parker who snuffed it out.
Parker scored eight of his 30 points in the fourth quarter, including a stunning crossover move against Devean George that ended the Lakers' final rally in San Antonio's 95-85 victory Wednesday night.
"I was in attack mode and just tried to get shots for me and my teammates," said Parker, who also had five assists. "I just want to keep winning. I just want to focus on beating the Lakers."
San Antonio holds a 2-0 lead in the best-of-seven series, which resumes Sunday in Los Angeles.
"Now we have to go home and get it done in our comfort zone," said Karl Malone, who scored 15 points for Los Angeles. "We have to fight our way back into this series."
The Lakers, led by Shaquille O'Neal's inside scoring, slashed a 16-point halftime deficit to 80-78 with more than six minutes left, and the momentum clearly was in their favor.
But Parker made a pair of free throws and a short floater over O'Neal after his crossover move on George to rebuild the lead to 88-80, and the Spurs' defense then made timely stops.
"It looked to me like we ran out of gas again tonight," Lakers coach Phil Jackson said. "We didn't have enough left for the last four minutes."
Parker, who had 16 points in the first quarter when San Antonio took the lead for good, shot 13-for-23. Tim Duncan finished with 24, but he didn't score in the fourth quarter despite the Spurs dumping the ball into him on most of their early possessions.
Spurs coach Gregg Popovich said Duncan's lack of points down the stretch demonstrated his team's versatility.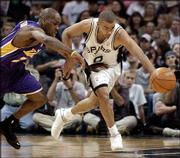 "For us it's better to do it out of our team offense and see what happens," he said. "Maybe its Tony's night, or Manu's or Hedo (Turkoglu)'s."
Manu Ginobili added 15 points for San Antonio, which has won 17 straight games since late March.
O'Neal led all scorers with 32 points, while Kobe Bryant had 15 points on 7-for-17 shooting.
O'Neal said the Lakers hd to figure out a way to contain Parker, who scored 20 points in Game 1. The 21-year-old point guard's quickness has been too much for defenders Gary Payton and Derek Fisher to handle.
"We have to trap him and make him throw it to other guys," said O'Neal, who was the game's top rebounder with 15. "He's pretty fast, and so far he's been able to do whatever he wants to do."
Copyright 2018 The Associated Press. All rights reserved. This material may not be published, broadcast, rewritten or redistributed. We strive to uphold our values for every story published.