Baghdad, Iraq — A member of the U.S.-appointed Iraqi Governing Council demanded Saturday that Iraqi authorities investigate reports that American guards abused inmates in the very prison where Saddam Hussein's regime tortured opponents.
As international condemnation intensified, the scandal broadened with a British newspaper publishing new photographs of a hooded Iraqi prisoner, who reportedly was beaten and humiliated by British troops. The Daily Mirror's front page showed a soldier apparently urinating on the prisoner, who was sitting on the floor.
Also Saturday, The New Yorker magazine said it obtained a U.S. Army report that Iraqi detainees were subjected to "sadistic, blatant and wanton criminal abuses" at the Abu Ghraib prison near Baghdad.
Those abuses included threats of rape and the pouring of cold water and liquid from chemical lights on detainees, said the internal report by Maj. Gen. Antonio Taguba. Detainees were beaten with a broom handle and one was sodomized with "a chemical light and perhaps a broom stick," the report said, the magazine reported in its May 10 issue.
Col. Jill Morgenthaler, spokeswoman for the U.S. command here, said Taguba had prepared an internal report but she could not comment on its findings because they were classified.
Many Arabs in neighboring countries accuse the United States of having double standards on human rights and say the issue will rally support for Islamic fundamentalists.
The new allegations are expected to fuel a growing sense of outrage that swelled in Iraq after the release of shocking pictures showing prisoners being humiliated by their U.S. captors -- who invaded Iraq last year to liberate the country from Saddam's tyranny.
Although the pictures have not been widely published by Iraqi newspapers, many Iraqis have seen them on Arabic-language satellite television stations, such as Al-Jazeera and Al-Arabiya.
"After what we saw, all Iraqis will attack them now," Abdulilah Mohammed, a 55-year-old Baghdad street vendor, said of the Americans.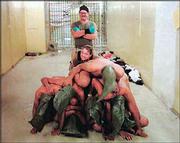 Some photos, aired first on CBS' "60 Minutes II," showed two U.S. soldiers standing near the prisoners, smiling and clowning for the camera.
Another showed a hooded prisoner standing on a box with wires attached to his hands. CBS said the prisoner was told that if he fell off the box, he would be electrocuted, although the wires were not connected to a power supply.
"The Governing Council should investigate this, because it is the legitimate authority responsible for protecting the Iraqis," council member Sondul Chapouk told The Associated Press. "During Saddam's time we rejected such acts, and after the liberation we still reject them."
Copyright 2018 The Associated Press. All rights reserved. This material may not be published, broadcast, rewritten or redistributed. We strive to uphold our values for every story published.