Atlantic City, N.J. — Donald Trump has become the resident prime-time expert on what it takes to make it in the business world, but his real-life casino empire is in trouble.
As Trump basks in the popularity of his smash-hit reality show "The Apprentice," Trump Hotels & Casino Resorts is dealing with a mountain of debt, huge losses and stiff competition from glitzier competitors that have eaten away at millions of dollars in business.
The result is a bleak financial outlook that has prompted the company's auditors to raise serious concern about its future. Barring a bailout, the company may not be able to continue as a viable company, auditors for Ernst & Young LLP warned in a letter to the company's board of directors that was released Tuesday.
"The company is working on various alternatives to improve the company's financial resources ... Absent the successful completion of one of these alternatives, the company's operating results will increasingly become uncertain."
Last month, Trump announced that Credit Suisse First Boston had agreed to make a $400 million cash infusion into the company in exchange for a controlling stake. If approved by bondholders, the deal would result in Trump's removal as chief executive officer. He would stay on as chairman.
Trump Hotels, which carries $1.8 billion in debt, has been unable to finance major capital improvements at its three Atlantic City properties at a time when competitors -- including the new Borgata Hotel Spa & Casino -- have been taking away gamblers.
Trump's troubles come at the same time that "The Apprentice" has become one of the hottest shows on television. Millions of viewers have tuned in to watch ambitious entrepreneurs compete for a spot in the boardroom with Trump, whose "You're fired!" dismissals each week have given the country a new catch phrase.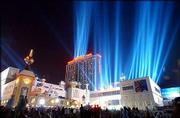 Copyright 2018 The Associated Press. All rights reserved. This material may not be published, broadcast, rewritten or redistributed. We strive to uphold our values for every story published.