London — Police arrested eight men and seized half a ton of ammonium nitrate, a fertilizer compound used in the Oklahoma City bombing, in raids by hundreds of officers -- one of the biggest anti-terrorism operations in Britain since the Sept. 11 attacks.
Home Secretary David Blunkett, who has warned for months that London is a prime terrorist target, said the arrests Tuesday were a "timely reminder" of the threat from al-Qaida. But a Muslim leader warned that the headline-grabbing dawn raids risked demonizing the whole community.
Press Association, the British news agency, said all eight were of Pakistani descent, but police would not comment.
In a sweep involving 700 officers, eight suspects were picked up in London and towns to the south and west on suspicion of involvement in the "commission, preparation or instigation" of acts of terrorism, London's Metropolitan Police said.
Authorities recovered the ammonium nitrate, often used in terrorist bombings, from a self-storage facility in west London, police said. It was the largest seizure of potential bomb-making material in England since the Irish Republican Army suspended its campaign of violence in 1997.
"Part of the investigation will focus on the purchase, storage and intended use of that material," said Deputy Assistant Commissioner Peter Clarke, head of the force's anti-terrorist branch.
Clarke said the suspects were British, aged 17 to 32, and were arrested as part of an operation targeting alleged international terrorist activity. He said the operation, which involved five police forces, was not connected to the Madrid train bombings this month or to Irish terrorism.
Clarke gave no details of the suspects' background or religious affiliation, but he told reporters that "we in the police service know that the overwhelming majority of the Muslim community are law-abiding and completely reject all forms of violence."
Three of the arrests were in Uxbridge and Slough, near Heathrow Airport west of London, and four in Crawley and Horley, near Gatwick to the south. Police refused to say whether there was any significance to the proximity. The eighth arrest was in Ilford, east London.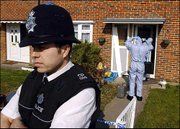 Ammonium nitrate is a common fertilizer, but it can be mixed with fuel oil to make a powerful explosive.
A half-ton bomb could kill hundreds if detonated in a crowded place. The IRA used a half-ton fertilizer bomb to blow up part of London's Canary Wharf office complex in February 1996, killing two people.
A smaller amount of fertilizer was used in the Oct. 12, 2002, Bali bombings, which killed 202 people, mostly Western tourists.
IRA dissidents used about 500 pounds to kill 29 people and wound more than 300 in the Northern Ireland town of Omagh in 1998.
The bomb that blew up a U.S. government building in Oklahoma City on April 19, 1995, killing more than 160 people, contained 2 tons of ammonium nitrate.
"It's a very effective bomb. It's been used in hundreds of terrorist atrocities worldwide," weapons expert Mike Yardley said. "It's the ideal explosive -- simple, effective and cheap."
Copyright 2018 The Associated Press. All rights reserved. This material may not be published, broadcast, rewritten or redistributed. We strive to uphold our values for every story published.