Denver — Roy Williams won his NCAA Tournament debut with North Carolina against the school that gave former Tar Heels mentor Dean Smith his first coaching job.
It wasn't easy.
Sean May had 14 points, and North Carolina pulled away in the second half to beat scrappy Air Force, 63-52, in the first round Thursday night.
"I'm extremely pleased with our team," said Williams, who reached the NCAA Tournament 14 straight years with Kansas University before taking over at his alma mater this year. "We knew it was going to be a very difficult game."
Smith was an assistant at Air Force from 1955 to 57 before becoming the winningest coach in NCAA history in his 36 years at North Carolina. But not even the dean of coaching could have predicted how much the Tar Heels would struggle against the undersized Falcons.
North Carolina (19-10), the sixth seed in the Atlanta Regional, had trouble with Air Force's deliberate offense and swarming defense from the start and didn't get any breathing room until going on an 11-0 run midway through the second half.
The Tar Heels shot just 32 percent in the first half, but went 12-for-22 in the second to win in their first NCAA Tournament appearance since 2001.
North Carolina moves on to Saturday's second round against Texas, which has to be relieved after struggling early against Princeton's pace-dragging style in the first game.
"I'm kind of glad it's over, because that team scares you, how many weapons they have and what they can do to you offensively and defensively," May said.
Air Force (22-7) shot 50 percent in the first half, but went 8:19 without a field goal late in the second period to lose in its first NCAA Tournament appearance in 42 years. The Falcons are 0-3 in the NCAA Tournament.
"All I talked to my team about all week is winning, winning, winning," Air Force coach Joe Scott said. "That is all they have heard for four days. That is how you know it is such a hollow feeling, because that has been in our guys' heads and in their hearts."
Air Force at least made a game of it against the bigger and faster Tar Heels.
Using their grind-it-out offense and scrambling defense, the Falcons kept it to the slow pace they wanted and held North Carolina under 25 points in the first half.
Air Force had trouble with the powerful May inside -- eight points on 4-of-9 shooting -- but held the Tar Heels to 32-percent shooting in the first half.
The Falcons didn't have a field goal until A.J. Kuhle hit a layup five minutes in, but that seemed to get them going.
Nick Welch followed with a three-pointer, Antoine Hood added two more, and Air Force shot 9-for-18 to lead 28-23 at halftime.
"We played a solid 20 minutes of basketball and were able to hang with a great team," Air Force's Tim Keller said. "Being able to make it that far and being able to compete, you couldn't ask for much more."
The Falcons went up 44-38 with just under 13 minutes left on Joel Gerlach's four-point play, but North Carolina answered with an 11-0 run, capped by Raymond Felton's long three-pointer at the shot-clock buzzer with 10:23 left.
"It was very difficult," North Carolina's Jawad Williams said. "They slowed us down and did a great job of controlling the tempo. We couldn't get the shots we were used to getting. We just had to stay tough."
Duke 96, Alabama St. 61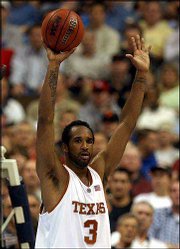 Raleigh, N.C. -- Shavlik Randolph scored 20 points for top-seeded Duke, coming off a loss to Maryland on Sunday in the Atlantic Coast Conference tournament final
Daniel Ewing added 19 points for Duke (28-5), which will play eighth-seeded Seton Hall in the second round.
Malcolm Campbell scored 26 points for Alabama State (16-15), seeded 16th and No. 230 in the latest RPI rankings.
Seton Hall 80, Arizona 76
Raleigh, N.C. -- Kelly Whitney had 24 points and 14 rebounds to lead Seton Hall.
Andre Barrett added 19 points and six assists for the Pirates (21-9), who overcame a 14-point deficit in the second half.
Andre Iguodala scored 19 points to lead Arizona (20-10), which lost in the opening round for the first time since 1999.
Texas 66, Princeton 49
Denver -- Brandon Mouton scored 18 of his 23 points in the second half to lead Texas (24-7) past Princeton.
Royal Ivey had 15 points and Brian Boddicker 14 for Texas, making its sixth straight NCAA Tournament appearance. Princeton (20-8), the No. 14 seed, got 16 points from Will Venable.
Copyright 2018 The Associated Press. All rights reserved. This material may not be published, broadcast, rewritten or redistributed. We strive to uphold our values for every story published.