Topeka — Simply put, a Lawrence woman told a Senate panel Wednesday, a vote in favor of a proposed state constitutional amendment to ban gay marriage would be a vote in favor of discrimination.
And after a one-hour hearing that drew an overflow crowd to the Capitol -- with more than twice the number testifying against than in favor -- it appeared the idea could be on the ropes.
Senate Majority Leader Lana Oleen, R-Manhattan, said later she had problems with the measure. Her comments came in a hallway conversation with Topeka attorney Pedro Irigonegaray after the hearing in the Senate Judiciary Committee.
Irigonegaray, an opponent, said, "This is a fundamental issue of civil rights."
Oleen said she feared the amendment could stop same-sex couples from being able to become foster parents. "I don't want to jeopardize that," she said.
Looking for excuses?
Last week, Senate President Dave Kerr, R-Hutchinson, said he had heard concerns the amendment could infringe on religious organizations.
"There is a way you could read that of prohibiting churches from doing what they do," Kerr said.
But Rep. Jan Pauls, D-Hutchinson, one of the composers of the amendment, said such concerns were unfounded and suggested some lawmakers who were philosophically opposed to a ban on gay marriages were looking for excuses to vote against the measure.
The amendment was approved by the House earlier this month on an 88-36 vote. If adopted by a two-thirds majority in the Senate -- or 27 of 40 senators -- it would be placed on the Nov. 2 ballot for consideration by voters statewide.
Under the amendment, Kansas would recognize only marriages between one man and one woman and confer the legal rights associated with marriage only on such couples. The Judiciary Committee may vote on it Friday.
Infringement on religion
State law already says marriages in Kansas can be only between a man and a woman, but supporters of the proposed amendment say the rule needs to be placed in the state constitution to protect marriage from court decisions that say same-sex marriages must be recognized.
Several Lawrence residents spoke during the packed hearing before the Judiciary Committee, in which 27 people spoke against the amendment and 12 in favor.
David Greenbaum and Michael Silverman, of Lawrence, who were married in a Nebraska synagogue, said the proposal would run counter to religions that have accepted gay marriage.
"One particular religious viewpoint should not be put in the constitution, thereby telling my religion and others that we are wrong and not welcome," Greenbaum said.
Diane Silver, with the Freedom Coalition, a group of Douglas County residents, said the measure would make gay couples second-class citizens by denying the legal and financial benefits of marriage. "I cannot believe that such a proposal is even being considered in this country, let alone in this state," she said.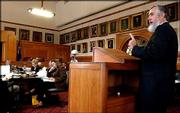 Bad for business?
Bruce Ney, an attorney from Lawrence, said the proposed amendment would hurt the state economy by precluding companies from offering domestic partner benefits.
"It sends a message to companies that companies with gay and lesbian employees are not welcome in the state of Kansas," he said.
Mary Corcoran, of Lawrence, said: "Amending our constitution to exclude a group of people would be wrong. It would be a vote for discrimination."
But supporters of the amendment argued it was needed to help the institution of marriage.
"Marriage is too important to be left unprotected," said Sen. Tim Huelskamp, R-Fowler.
Doug Robinson, Lawrence, who said he worked as a free-lance journalist in San Francisco for 20 years, said gays wanted to redefine marriage. "The goal is the legalization and recognition of any and all sexual actions in public or private," he said.
Several religious leaders spoke in favor of the amendment, saying that gay sex was unnatural -- but several also testified against it.
Rabbi Barry Albin, of Kansas City, Kan., said that if the amendment were to pass, he would find two people from a state that allows same-sex unions, bring them to Kansas and file a lawsuit against the state.
"We will challenge your unconstitutional act," he said.
The proposed constitutional amendment is HCR 5033.
Copyright 2018 The Lawrence Journal-World. All rights reserved. This material may not be published, broadcast, rewritten or redistributed. We strive to uphold our values for every story published.