Dominic Collins would like more options when it comes to the food he eats using his Kansas University meal plan.
"It's nothing spectacular," said Collins, a freshman from Kansas City, Kan. "It could be better. The food is monotonous. They need to switch it up a little."
Starting this fall, Collins and the other students living in residence halls will have a new slate of dining options. The dining services with the department of student housing and the KU Memorial Unions will merge, giving students living in residence halls the option of eating at the Kansas or Burge unions, or Wescoe Terrace, the food court at Wescoe Hall.
"The notion is we can give more options and more choices if we're all under one umbrella," said Ken Stoner, director of student housing.
Robert Hoyle, currently associate director of the housing department, will serve as acting director for the new KU Dining Services. Stoner said no layoffs would be included in the merger, though some money could be saved through efficiencies of scale. The departments already had a jointly negotiated contract with U.S. Food.
Immediate plans call for an expansion of Wescoe Terrace and the addition of late-night hours at Mrs. E's Express, the food station in Hashinger Hall.
Stoner said focus groups had provided guidance for the new department, but that officials would continue evaluating dining options after the merger was completed.
"You have to survey students, but you have to survey where their feet take them as well," he said.
David Mucci, director of the unions, said he expected business to be up at the union-run food locations in the fall.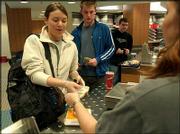 "With one system, we should be able to provide the convenience and accessibility to give students the meal they want during the part of the day they want to be on campus," he said.
Copyright 2017 The Lawrence Journal-World. All rights reserved. This material may not be published, broadcast, rewritten or redistributed. We strive to uphold our values for every story published.