Columbia, Mo. — On the day of the last Missouri University basketball game at the Hearnes Center, Mizzou officials honored Norm Stewart again.
Stewart -- aka "Sit Down, Norm" in Lawrence -- coached MU's men's basketball team forever. When he retired after the 1999 season, they named the Hearnes Center floor for him.
Sunday, the MU chancellor -- not the one who had invited Rickey Clemons over for some ATV fun, incidentally -- announced the floor in the Tigers' new arena scheduled to open next season also would bear Stewart's name.
That's fine. Now I'm wondering if they'll name the three-point lines at the still-unnamed $75 million palace after Kansas University point guard Aaron Miles.
Yeah, you're right. They won't. But it will be a long time before MU fans forget Miles and the three-pointers he sank in successive years that helped snatch defeat from the jaws of apparent victory.
Last year, I'm sure you recall, Miles flung a line drive at the basket in a desperate attempt to beat the shot clock. Somehow the ball went in to forge a 74-all deadlock. After Missouri misfired on the ensuing possession, Kirk Hinrich's three-pointer with :25 showing won it.
What happened Sunday afternoon was hauntingly similar. The Jayhawks had blown a 10-point lead and were lagging by a point when Miles, far from desperate this time, launched an open three, and this one swished to give KU an 82-80 lead.
Kansas eventually won it on David Padgett's baseline shot at :02, but Miles' goal with 21 ticks left was the dagger. If he had missed, the Jayhawks probably would have been toast.
Miles is not a good shooter. That's no secret. Heck, his field-goal percentage is below .400, but try telling that to Missouri fans. They wouldn't believe it.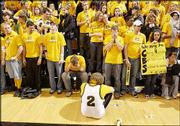 KU coach Bill Self also knows Miles is no Annie Oakley when it comes to shooting, but he also knows some good shooters don't shoot so good when it's crunch time.
"You look at Miles and say he's an average shooter," Self said, "but I'd like to see what he's shooting in the last two minutes. He lives for this. All our players do, but him in particular."
In back-to-back years in the regular-season finale, both at Missouri, the 6-foot-1 KU junior has made the biggest three-point goals of his college career. Maybe last year's was lacking in aesthetics, but Sunday's trey made up for it.
"Basically, they're the same. Both count for three points," Miles said. "Last year I threw it up there. This time I was open."
If Miles sounded matter-of-fact, he didn't mean to be. He was noticeably happy about helping put the kibosh on MU's Senior Day, spoiling the last game in the Hearnes Center and, more important, winning a road game.
"Man, I can't remember the last time we won on the road," Miles said. "When was it?"
Informed it was the Kansas State game Jan. 28 in Manhattan and that the Jayhawks went 0-for-February away from Allen Fieldhouse, Miles nodded.
"They had a lot of stuff going here with Senior Day and closing the Hearnes Center, but we're motivated, too. We're trying to get a higher seed (in the NCAA Tournament)," he said.
Speaking of goings-on, Miles had another incentive. He figured he owed one to the Antlers, Missouri's often infuriating sub-culture support group, for ordering a pizza sent to him and roommate Michael Lee on Friday.
"It had anchovies on it," Miles said with a grimace. "No, we didn't pay for it. Maybe if it had pepperoni on it we might have paid for it."
Maybe next year the Antlers should switch tactics and leave Miles alone. Nothing they've tried so far has worked. Miles has played in three games in Columbia -- all regular-season finales -- and the Jayhawks have won them all by narrow margins -- 95-92 when he was a freshman, 79-74 last year and 84-82 this year.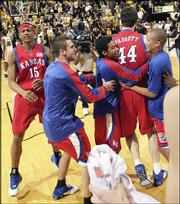 "You've just got to be poised," Miles said. "Against good teams, you know you're not going to blow them out."
Missouri led 80-79 when Self called time with :30.9 on the clock. The Jayhawks' double-digit lead had vanished. Momentum had switched uniforms.
"I wasn't worried," Miles said. "I told everybody we were going to win."
Nine seconds later, he showed them he wasn't spoofing by nailing the basket on Norm Stewart Floor from behind the line that should have his name on it.
Copyright 2018 The Lawrence Journal-World. All rights reserved. This material may not be published, broadcast, rewritten or redistributed. We strive to uphold our values for every story published.