Port-au-Prince, Haiti — Three thousand supporters of President Jean-Bertrand Aristide marched on the U.S. and French embassies on Friday, shouting their anger at his ouster. A seven-member council met for the first time to help form a transitional government.
The protesters, a few with pistols tucked into their belts, charged past embassies and the presidential National Palace, chanting "Long live Aristide!" and "Down with George Bush!"
U.S. troops watched impassively as the protesters passed.
Outside the U.S. Embassy, one young man screamed epithets and then mooned the Marines.
"If it comes to that, we will confront the U.S. Marines," said demonstrator Pierre Paul, 35. "We will do the same thing that they are doing in Iraq."
It was the first large protest in favor of Aristide since the ousted president fled Sunday to Africa as rebels prepared for a final push on Port-au-Prince and the United States and France pressed the former priest to bow out.
Rebel leader Guy Philippe said he might meet with opposition leaders to talk about re-establishing the army that was disbanded in 1995. Haitian armies have fomented 32 coups in the country's 200 years of independence.
U.S. Gen. James Hill of the Southern Command opposed the idea, saying "there is no need for a Haitian army."
He said earlier that U.S. Light Armored Vehicles were placed at the presidential palace to stop looting that had erupted in recent days and prevent opposition forces from taking over.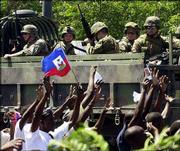 The Marines arrived the day Aristide left, followed by French and Chilean troops, forming the vanguard of a U.N.-sponsored peacekeeping force expected to number about 5,000. Canada said it was sending 450 soldiers within days.
The Marines so far have met no resistance, though there has been none of the jubilation that accompanied their last intervention in Haiti -- in 1994, when 20,000 troops ousted a brutal military dictatorship, halted an exodus of boat people to Florida and restored Aristide to power.
A spokesman said U.S. troops had expanded their presence in Haiti beyond the capital and into rebel strongholds. Special teams from the U.S. Southern Command in Florida arrived at rebel bases of Cap-Haitien, on Haiti's north coast; the western city of Gonaives; and possibly other locations across the country, said Army Maj. Richard Crusan, spokesman for the interim international force.
The teams are in addition to the 1,100 Marines in Port-au-Prince, Crusan said.
Witnesses in Cap-Haitien said police were disarming rebels who took that city Feb. 22.
Radio Metropole said there has been some resistance to disarming, particularly in Gonaives, but no fighting was reported.
Paul Arcelin, an adviser to Philippe, told The Associated Press on Friday the rebels would keep their weapons as long as Aristide militants were armed because "tomorrow they'll come here and kill us."
Asked where the rebel guns were, he said: "We hide them."
Copyright 2018 The Associated Press. All rights reserved. This material may not be published, broadcast, rewritten or redistributed. We strive to uphold our values for every story published.