Topeka — Republican leaders in the House are trying to kill a bill that would allow illegal immigrants to pay in-state tuition, Gov. Kathleen Sebelius said Friday.
Under the bill, students who are in the country illegally but have attended a Kansas high school for three years and graduated would be charged the lower resident tuition rate at public universities, community colleges and vocational colleges.
The measure was adopted last year in the House and then approved this session by the Senate, which added a provision that the students would have to prove they are seeking citizenship or legal resident status.
House Speaker Doug Mays, R-Topeka, said the Senate changes were significant enough to warrant putting the bill back into a committee for more work. He sent the bill to the House Federal and State Affairs Committee
Sebelius said Mays' move was an attempt to "derail" the bill.
"I'd like the bill to be sent to my desk," Sebelius said.
Her comments to reporters followed her remarks during Hispanic legislative day.
She told a crowd of more than 100 people to contact legislative leaders in the House to get that bill moving again.
Rep. William Mason, R-El Dorado and chairman of the Federal and State Affairs Committee, said he would probably schedule a hearing on the bill although he, Mays and other committee members had little interest in voting on it.
"But I wouldn't want to predict the outcome," he said.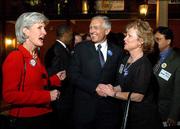 Copyright 2018 The Lawrence Journal-World. All rights reserved. This material may not be published, broadcast, rewritten or redistributed. We strive to uphold our values for every story published.