When the state said 100-year-old Dan Fogle Sr. could not drive on four wheels, he decided to drive on three.
"I still have to eat," Fogle said. "But I guess the law don't think so."
Fogle failed to pass his eye exam when renewing his driver's license earlier this year, but because he lived on his own he still needed a way to get around.
The solution was to fit Fogle with a motorized adult tricycle. Fogle picked up his new wheels Friday from Cycle Works, 2121 Kasold Drive.
Gary Long, owner of Cycle Works, designed the bike for Fogle's needs.
Fogle had been riding his motorized wheelchair to the grocery store, which is about a mile from his Ottawa home, but it did not travel fast enough to allow him to cross major streets before the lights changed. Long added a wheel motor to the bike he picked out for Fogle. The motor will allow the cycle to travel up to 18 mph.
Fogle's son, Dan Fogle Jr., lives a mile down the road from his father, and he doesn't worry about his father's newfound speed.
"I'm going to ride alongside him for a while, but he does fine on his own," Fogle Jr. said. "If he had remembered his glasses, he'd still be driving."
Fogle Sr. said he had plenty of uses for the bike.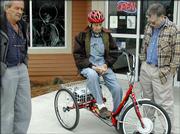 "I have to buy my groceries and get my pills," he said.
Fogle Jr. said the bike would be good for his father's runs to McDonald's, too.
"After he lost his license, he was wanting a mo-ped," he said. "But we came up with the bike as the best solution."
Long said it was important for him to find a way to help Fogle Sr. get around.
"I really enjoy being able to help people bike," he said.
He said bicycles, or the tricycle in the elder Fogle's case, could easily be designed to accommodate the disabilities and ages of riders. He said Fogle Sr. was his oldest customer ever.
Fogle Sr. still tends a garden in his back yard, and until two years ago he canned 50 quarts of fruit every season. Fogle Jr. says he still goes over to visit while his dad tills the garden.
Despite bragging about raising five boys and a girl, Fogle Sr. still clearly enjoys being on his own.
"I still do all right," he said. "How many men do you know of still running loose at 100?"
Copyright 2018 The Lawrence Journal-World. All rights reserved. This material may not be published, broadcast, rewritten or redistributed. We strive to uphold our values for every story published.