Guantanamo Bay, Cuba — The U.S. military has formed a five-member military tribunal to preside over the first trials of terror suspects detained at its naval base in Guantanamo Bay, officials said Tuesday. An Australian and two alleged bodyguards of Osama bin Laden will be the first defendants.
The Pentagon announcement came a day after the Supreme Court ruled that prisoners at Guantanamo Bay could appeal their detention to civilian courts.
That ruling was a blow to President Bush's stance that the United States can jail terror suspects without judicial review and that the Cuban base was outside the reach of U.S. courts. Relatives and advocates are now planning hundreds of lawsuits to challenge the detainees' captivity.
The trials -- of an Australian, a Sudanese and a Yemeni -- would be the first military tribunals convened by the United States since the end of World War II.
"This is an important first step," Air Force Maj. John Smith, a lawyer who helped draft the tribunal rules, said in a telephone interview from the Pentagon. "We'd like to have a case tried by the end of the year."
Smith said the trials would take place at the U.S. Navy base at Guantanamo Bay, where detainees have been held since January 2002 and now number about 600 from 42 countries.
The first to be tried will be David Hicks of Australia, Ali Hamza Ahmed Sulayman al Bahlul of Yemen, and Ibrahim Ahmed Mahmoud al Qosi of Sudan -- the only detainees charged to date, and three of only four allowed access to lawyers.
The Pentagon did not say who would go first, and said lawyers would be contacted "in the near future" about setting a trial schedule.
The men have been charged with conspiracy to commit war crimes and other offenses that carry sentences of up to life imprisonment, the Pentagon has said, ruling out death sentences for the three. The tribunals are empowered to deliver the death sentence if members are unanimous.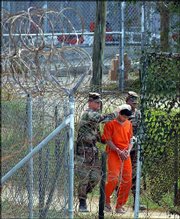 The presiding officer will be retired Army Col. Peter Brownback III, a judge advocate for 22 years and a military judge for nearly 10 years, the Pentagon said.
Other panel members are two Marine colonels, an Air Force colonel and an Air Force lieutenant colonel, it said. Smith said one alternate also was named.
Hicks, a 28-year-old convert to Islam, is accused of training at al-Qaida camps and taking up arms against U.S.-led forces in Afghanistan. Charges include war crimes conspiracy, attempted murder and aiding the enemy. His lawyers say he will plead not guilty.
The military has charged al Qosi and al Bahlul with war crimes conspiracy, saying al Qosi was an al-Qaida accountant and bin Laden bodyguard and al Bahlul was a bin Laden bodyguard and propagandist for al-Qaida.
Copyright 2018 The Associated Press. All rights reserved. This material may not be published, broadcast, rewritten or redistributed. We strive to uphold our values for every story published.