Omaha, Neb. — A Cal State Fullerton team that had a losing record at midseason is now one win away from a national championship.
Danny Dorn's two-run double gave Fullerton the lead in the seventh inning, and three relievers shut down Texas the rest of the way, leading the Titans to a 6-4 victory in the first game of the College World Series finals Saturday night.
The Titans (46-22), seeking their first national title since 1995 and their fourth overall, can wrap up the best-of-three series with a win today over the Longhorns (58-14).
"Texas is not going to go away," Fullerton coach George Horton said. "They're going to keep making runs at us."
Fullerton has won 31 of its past 37 games after starting the season 15-16.
"We had our rock-bottom part of the season and then got the ball rolling," Dorn said. "We don't think so much about winning the national championship tomorrow as we do about going out and winning the first pitch and then the pitch after that."
Dorn stepped to the plate after star reliever Huston Street struck out Nos. 3 and 4 batters Kurt Suzuki and P.J. Pilittere. Justin Turner and Clark Hardman had led off the seventh with singles against J. Brent Cox (6-2).
Dorn, who had just three hits in his first 17 CWS at-bats, lined Street's 2-2 pitch into the gap. The ball bounced off the heel of Texas left fielder Carson Kainer's glove for a two-run double.
"I felt like I had been struggling," Dorn said. "I was trying to pick up a teammate (Suzuki) who had picked me up all year. Luckily, I got a pitch to hit and got the barrel on it."
Kainer said he should have made the catch.
"I got a decent jump," Kainer said. "It got up in the lights. I stayed with it. I saw it come out of the lights, and I dove. It just hit off my glove. If I catch it, I'm a hero. It's a tough play to make."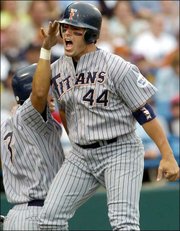 Felipe Garcia, who had four hits and three RBIs, drove in Dorn for a 6-4 advantage.
Ricky Romero (14-4) gave up all eight of Texas' hits in 62/3 innings. He walked two and struck out eight.
Vinnie Pestano, Ryan Schreppel and Mike Martinez combined on 21/3 innings of shutout relief. Martinez earned his second save.
Texas threatened in the bottom of the ninth after Pestano hit pinch hitter Hunter Harris with a pitch and Michael Hollimon reached on a fielder's choice when shortstop Neil Walton was charged with a throwing error on an attempted force play at second.
But Drew Stubbs, facing Martinez, struck out for the fifth time in the game, and Seth Johnston grounded out to end the game.
"We do have a bullpen," Horton said. "That's been the question of the week."
The Longhorns had taken a 4-3 lead with a three-run fifth inning against Romero.
Ryan Russ walked, and Hollimon followed with a bunt single. Johnston lined a single into right, and Fullerton right fielder Bobby Andrews overthrew catcher Suzuki, with the ball bouncing off the top step of the Longhorns' dugout and into the stands. That allowed Hollimon to score the tying run and put Johnston at third.
Johnston scored on Curtis Thigpen's sacrifice fly.
The Longhorns got out of the sixth inning unscathed after Fullerton loaded the bases with none out against J.P. Howell.
Cox came on and struck out Walton, and then Ronnie Prettyman hit a hard comebacker. Cox threw home, and catcher Taylor Teagarden threw to first to complete the double play.
The Titans scored the go-ahead runs the next inning.
"What a huge mental turnaround when we had bases loaded and went down," Horton said. "Then to come back and get those runs right away in the seventh."
This is the second year that the CWS has had a best-of-three championship rather than a winner-take-all final.
"I'm glad they changed the format," Texas coach Augie Garrido said.
Copyright 2018 The Associated Press. All rights reserved. This material may not be published, broadcast, rewritten or redistributed. We strive to uphold our values for every story published.