Kansas City, Mo. — Edgar Renteria and the St. Louis Cardinals were both lucky and good.
They had good fortune in the ninth inning to keep Kansas City from winning, then they kept it from going to waste in the 10th when Renteria drove in the go-ahead run in the Cardinals' 3-1 win over the Royals on Saturday night.
With the score tied at 1 and two on in the ninth, Mike Sweeney hit a line drive right at Renteria, who was perfectly positioned at shortstop to snare the ball and flip to second for an inning-ending double play.
In the 10th, Renteria singled after Albert Pujols walked, then stole second against Rudy Seanez.
"We caught a huge break," St. Louis manager Tony La Russa said. "And we took advantage. That ball Sweeney hit might have gone over the fence."
Said Renteria: "Bad for him, good for me."
Before Renteria's single, Scott Rolen advanced Pujols with an infield out.
"Now, in the 10th we were good," La Russa said. "We had some great at-bats. Albert made a terrific base-running play, a game-winning play."
Mike Matheny followed with a two-out RBI single.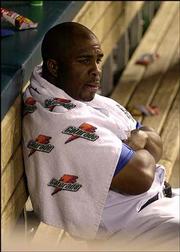 Julian Tavarez (2-0) got the win with a scoreless ninth, and Jason Isringhausen pitched the 10th for his 17th save in 21 chances.
The victory improved the Cardinals' record to an NL-best 45-29 and tied them with the New York Yankees for the most wins in the majors. In interleague games, the Cardinals are 7-1 against Kansas City, Texas and Oakland.
"Good teams, they get the breaks," Sweeney said. "They're a great team."
Seanez (0-1), the fifth Royals pitcher, went 1 1/3 innings and gave up two hits and two runs.
The Royals got more bad news when closer Jeremy Affeldt had to leave the game after getting just one out in the ninth. Trainer Nick Swartz said he either strained or tore a muscle in his rib cage and would be out a minimum of two weeks, and possibly six.
The Cardinals failed to score after loading the bases with two outs in both the eighth and ninth.
Most of the night was a pitching duel between starters Woody Williams and Dennys Reyes, who each gave up one run.
Reyes went seven innings and gave up just four hits, with three walks and six strikeouts. Williams went eight innings and gave up one run on eight hits, with three walks and five strikeouts.
Pujols doubled leading off the fourth and scored on Renteria's double one out later. Renteria stole third with one out, but Reyes got Jim Edmonds on a called third strike and Matheny on a groundout.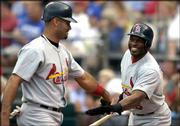 The Royals wasted Matt Stairs' one-out triple in the fourth when Williams got Joe Randa to pop up on the next pitch and struck out Dee Brown on three straight pitches. Stairs finished a homer short of the cycle.
Angel Berroa singled leading off the fifth and scored on Tony Graffanino's two-out single.
Reyes took a tumble while fielding John Mabry's bunt in the third, but still got the ball to first in time for the out. Then, while delivering a pitch to Mike Matheny in the seventh, the portly left-hander fell off the mound.
Trainers came out to check on him, but after a couple of practice throws, he got an inning-ending double play when Matheny struck out and rookie catcher John Buck threw out Roger Cedeno trying to steal second.
Notes: Williams had two wild pitches, raising his total to an NL-leading nine. ... Edmonds pulled Reyes' fastball into the left-field corner for what normally would be a double, but stopped at first and was replaced by pinch-runner Cedeno. Edmonds missed two starts against the Cubs earlier in the week because of a strained groin.
Copyright 2018 The Associated Press. All rights reserved. This material may not be published, broadcast, rewritten or redistributed. We strive to uphold our values for every story published.