Lawrence Raiders third baseman Tyler Blankenship said it felt really, really good.
The crowd at Hoglund Ballpark nearly saw a towering home run in the sixth inning of Saturday's game between Lawrence and the Tulsa (Okla.) Memorial Chargers.
It would have been awfully dramatic -- had it gone out. But Blankenship's shot clunked off the left-field wall for an RBI double instead of a three-run, game-tying home run.
It was the best chance the Raiders had to complete a game-long fight to catch Tulsa, which beat Lawrence, 5-3, Saturday in the final day of pool play at the Al Ice Memorial Woodbat Classic.
The Raiders (17-8) surrendered four first-inning runs and spent the next six frames trying to cover the wound. It was just about mended in the sixth after Blankenship's shot, but the Free State High graduate couldn't score. The Raiders had the tying run on base in the seventh, too, but couldn't bring him in, either.
Regardless, it was a noble fight that many teams wouldn't have tried after falling behind so early.
"This team is full of really good players," said Blankenship, who was 2-for-3 on the night. "We kind of dug ourselves in a hole, but everyone on this team feels that we can climb our way out. We just have to stay positive."
Grant Meisenheimer suffered the loss after struggling in the first inning. Reliever Matt Wingert pitched five solid innings of relief, allowing just one run and striking out three. He had a couple of defensive gems behind him, most notably a fifth-inning double play that was started and finished by Blankenship.
With a runner on second, Blankenship snagged a sharp grounder heading down the left field line and gunned it across the diamond for the out. Chris Coleman, playing first base, then fired it back to third, where the lead runner had tried to advance on the putout. He was tagged out for the all-too-rare 5-3-5 double play.
Lawrence scored two runs on a throwing error in the fifth, than added its third and final score on Blankenship's sixth inning double.
"When we get down early 5-0, it's easy to roll over and die," Raiders coach Reggie Christiansen said. "But our kids definitely competed. There's no doubt about that."
The Raiders, who finished 2-1 in pool play, clubbed eight hits, including two each by Blankenship, Ryan Engel and Dominick Harrell. They had a baserunner in every inning, but stranded seven.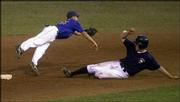 But by taking care of business the first two nights, the Raiders will have another seven innings for redemption. The Raiders and Tulsa both qualified for the tournament semifinals and will play each other at 1:30 p.m. today. Fortunately for the Raiders, they have three of their top pitchers -- Tyson Corley, Aaron Madill and Jake Hoover -- ready to log innings.
"Our pitching is lined up," Christiansen said. "We should be fine."
Copyright 2018 The Lawrence Journal-World. All rights reserved. This material may not be published, broadcast, rewritten or redistributed. We strive to uphold our values for every story published.