Overland Park — In some ways, Mary Still is a typical weight-loss success story. She changed her eating habits, started working out and dropped 82 pounds in a year.
What sets Still apart is that she and her husband, Ed, who has lost nearly 100 pounds, get most of their exercise at work. They visit an onsite fitness center almost daily, meet co-workers outside to walk through beautifully landscaped grounds and take wide, airy stairs instead of elevators.
That's exactly what their employer, Sprint Corp., intended when it moved its thousands of employees to a 200-acre campus in suburban Johnson County.
Sprint is part of a small-but-growing movement that encourages business owners to construct or renovate buildings in ways that motivate -- or require -- employees to get more exercise. The premise is simple: Happier, healthier employees are more productive and reduce health care costs for their companies.
"Fifteen years ago, when you designed or developed an office building, everyone was concerned with making everything as convenient as possible," said Phil Dordai, a principal with Hillier, the Princeton, N.J., architectural firm that designed the Sprint campus. "The logic of what's important in design has shifted a bit to making people more active."
Campus full of extras
At Sprint, that meant putting parking garages around the campus, rather than next to buildings. Covered walkways link all 21 buildings; conference rooms are spread across the campus; and the four cafeterias are scattered around the grounds.
Other amenities include the three-story fitness center, a gymnasium, four courtyards with fountains and waterfalls, two jogging trails, an amphitheater, an eight-acre lake, recreation fields, an indoor winter garden and onsite retail stores.
"Those were the general strategies we used to make people walk a little bit more," Dordai said. "We designed around the pedestrian, rather than the car. You don't need to park right in front of your building. If people have to walk a little farther to get to their building or their meeting, that's not a bad thing."
A similar idea took hold when the Robert Wood Foundation decided to expand and renovate its headquarters in Princeton, N.J. The company put its major meeting room at one end of the building and its food service and fitness center at the other, requiring employees to walk to those magnet areas. A walking trail also was installed.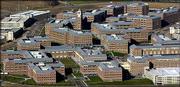 The moves were prompted by its emphasis on health care, and a concern about rising health care costs, said Peter Goodwin, vice president of National Program Affairs for the foundation.
"The vision was to have a healthier people, which leads to healthier teams and more productivity," he said. "And in the long term, having a healthier work force does address your bottom line by controlling benefit costs."
A national trend
The idea of encouraging more workplace movement is spreading steadily, sparked in part by a growing obesity epidemic, said John Pagrazio, president of the American Institute of Architects' Academy of Architecture for Health.
His architectural firm, NBBJ in Seattle, has worked in the United States and abroad to promote healthier workplaces.
"If you want to encourage people to walk from point A to point B, it has to be an interesting and rewarding experience," he said. "That requires covered walkways, water, something to look at. There are ways to manipulate the experience so people want to do it. Otherwise, it doesn't work."
And even the best plans go only so far in changing habits, Dordai said.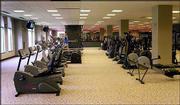 "We're in the business of creating the opportunity for those things to happen," he said. "You can't force people to get up and move more if they don't want to."
Sprint vice president Faye Davis acknowledged that many employees weren't thrilled with the layout when the company first consolidated more than 35 sites that had been scattered around the Kansas City metro area.
Sprint makes provisions for people who are disabled, pregnant or otherwise can't make the walks. Otherwise, she said, she's stopped feeling sorry for people who complain about the walking.
"Ninety-nine percent of them are fine with it," she said. "You are always going to have that sliver of discontent. I just think it's good for them."
The benefits go beyond physical fitness. Walking allows people to interact more with their co-workers, which enhances productivity, communication and creativity, she said, and the beautiful campus helped employee recruitment and retention.
Still agrees -- and won't consider working anywhere else, even another Sprint location.
"I have to be on this campus. It makes a huge difference to have it here," she said. "I love walking on campus. I can't imagine going anywhere else."
Copyright 2018 The Associated Press. All rights reserved. This material may not be published, broadcast, rewritten or redistributed. We strive to uphold our values for every story published.