When Kathy Domnanish took a job as a sales clerk for a wireless telephone store in Ottawa nine years ago, she didn't realize the job was going to change her life.
"I was basically just a newly divorced woman who was looking for a job," Domnanish said.
Domnanish began working with Derek Osborn at the telephone store. Three years later, they left the Ottawa company and started Simply Wireless in Lawrence.
"We were just a couple of employees who thought they had the world by the tail and knew how to make a better mouse trap," Domnanish said.
The company is celebrating its sixth consecutive year of solid growth. It recently won a statewide Existing Business of the Year Award from the Kansas Small Business Development Center for its growth.
Since opening in 1997 at 19th and Massachusetts streets, the company has added a store in Lawrence, Ottawa, Emporia and Garnett. The company recently closed its 19th and Massachusetts streets store and opened one at 2540 Iowa. Its other location is at 4651 W. Sixth St.
The owners said they believed the company would continue to expand.
"We already see a lot of kids in school who see no reason to get a land-line phone," Osborn said. "They rely completely on their wireless because it is so much easier. If they move, they don't have to worry about changing their number or re-establishing service.
"For other people, there is still a fear of cutting the cord, but I think a lot of that will eventually go away."
Domnanish said she had seen a turnaround in the business community.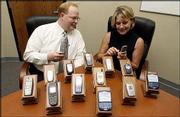 "There are a lot of businesses that I would call on nine years ago that laughed at the idea of having a cell phone," Domnanish said. "They just saw it as an unnecessary expense.
"It is amazing how much the world has changed in nine years. Today, if you are in business, you are looking for a better deal on your cell phone, not wondering whether you need one."
The industry is continually trying to tap into new ways for consumers to use its technology, Osborn said. He said wireless Internet access was among one of the biggest advancements. Companies, including Simply Wireless, are marketing devices that can be plugged directly into a laptop computer that will allow users to connect to the Internet anywhere they can use a cell phone.
Osborn said wireless phones would continue to use more global positioning system technology. Video phones that are cable of carrying television-quality feeds also are on the horizon, he said.
"Soon, you'll be able to go the Royals game and watch your other favorite team on your phone," Osborn said.
One aspect of the industry that is not expected to change is the intense competition among wireless providers.
Osborn said he expected there would be some consolidation among national wireless companies, but he doesn't expect that to decrease the aggressive deals that companies were offering.
Companies are getting particularly aggressive now that federal legislation allows customers to switch providers without losing their numbers. He said it had become common for carriers to offer free phones and other services to existing customers to ensure that they don't make a switch to another customer.
"We're seeing unprecedented efforts on behalf of carriers to retain their customers," Osborn said. "The end result is that consumers win again."
Copyright 2018 The Lawrence Journal-World. All rights reserved. This material may not be published, broadcast, rewritten or redistributed. We strive to uphold our values for every story published.