Could it be that soybeans are nature's perfect food?
Solid evidence shows that many nutrients and foods have health-protective benefits, and soy is one of them.
Soybeans and soy protein have been shown in many studies to have striking, positive effects on health.
Just consider these findings, compiled by the Soyfoods Council of Urbandale, Iowa:
Soy protein produces a significant reduction of total blood cholesterol, low-density lipoprotein ("bad" cholesterol) and triglycerides without altering high-density lipoprotein ("good" cholesterol).
Soy protein with isoflavones has been found to have strong antioxidant potential, meaning that it protects cells from damage.
Soy protein may offer protection against bone loss, osteoporosis and risk of bone fracture.
Soy protein offers a complete protein profile, containing all eight essential amino acids.

And soy protein contains omega-3 fatty acids, the minerals calcium, iron and zinc, plus B-vitamins such as thiamin, folate and B-6.
In fact, the Food and Drug Administration has concluded, based on more than 50 studies, that eating 25 grams of soy protein a day, within the context of a healthy diet, can help reduce the risk of heart disease. That's just under an ounce of soy protein.
Any food that contains at least 6.25 grams (about one-fifth of an ounce) of soy protein per serving is allowed to claim that it may help reduce the risk of heart disease, as long as it's consumed as part of a diet low in saturated fat and cholesterol.
Americans are taking note of this information, and they're buying more soy products than ever.
Here's an explanation of some soy products:¢ Green vegetable soybeans (edamame). These large soybeans are harvested when the beans are still green and sweet tasting. They can be served as a snack or a main vegetable dish after boiling in slightly salted water from 15 to 20 minutes. Green soybeans are sold frozen in the pod or shelled.¢ Soynuts: Roasted soynuts are whole soybeans that have been soaked in water and then baked until browned. They can be found in a variety of flavors.¢ Soymilk: Soybeans soaked, ground fine and strained produce a fluid called soybean milk. It's most commonly found in aseptic containers (nonrefrigerated, shelf stable), but also can be found in quart and half-gallon containers in the dairy case at the store.¢ Tofu products: Tofu, also known as soybean curd, is a soft, cheese-like food made by curdling fresh, hot soymilk with a coagulant. Tofu is a bland product that easily absorbs the flavors of other ingredients it's cooked with. It is often served in soups, stir fried or grilled.¢ Tempeh: Whole soybeans, sometimes mixed with another grain such as rice or millet, are fermented into a rich cake of soybeans with a smoky or nutty flavor.Source: 2004 Soyfoods Guide, distributed by the United Soybean Board.
Soy recipes
Latest figures on the U.S. soy foods market showed total retail sales of soy products reached $4 billion in 2003. Consumers spent $3.65 billion on soy products in 2002.
"Soy foods are a huge market, and it's a market that I think has just really exploded in the last 10 years," says Nancy O'Connor, director of education and outreach at the Community Mercantile Co-op, 901 Iowa.
"I think this market is here to stay. Consumers are moving toward exploring new diets, and certainly soy foods offer lots of options."
Answer to a hungry world
Soybeans aren't just healthful, they're also incredibly versatile.
The number of soy products sold today are on the rise and include items such as: soymilks, soynuts, green vegetable soybeans in the pod (edamame), tofu and tofu products, tempeh, nondairy soy frozen desserts, soy protein products (meat analogs) and soy yogurt.
In many cases, consumers are eating soybean derivatives and don't even know it.
"It's integrated into many products as a protein source. They use it in yogurts, dips, chips -- soybean products are everywhere," says David Millstein, one of eight member-owners of Central Soy Foods Inc., 710 E. 22nd St.
"We've seen significant growth (in sales of) our products. Because of the health aspects, the market for soy foods is increasing."
Central Soy Foods, formed in 1978, offers a range of organic products: firm tofu (soybean curd), hickory-smoked tofu, four kinds of tempeh (chunky, tender soybean cakes) and three kinds of soymilks.
The business sells its goods in Kansas and Missouri. In Lawrence, consumers can buy its products at the Community Mercantile Co-op, Dillon Stores, Hy-Vee Food Stores and Checkers Foods, 2300 La.
Millstein touts the health and economic value of soy foods, such as the tofu he helps produce.
"It's a clean source of protein, without cholesterol or sodium, with five grams of unsaturated fat per serving. It's the answer to a hungry world, because it feeds people efficiently," he says.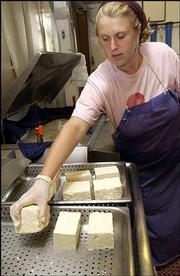 Millstein notes that it takes 20 times the amount of resources (land, water and grain) to produce one pound of beef as it does to produce one pound of soy protein.
Tofu is an extremely versatile ingredient in the kitchen, too.
"You can bake it, fry it, make dips, puddings, pies, cheesecakes. You can freeze dry it and crumble it into chili. It's endless," he says.
"We (Millstein and his wife, Susan) end up baking it and marinating it. It's great, because it absorbs any of the flavors you put with it."
Strive to eat whole form
All that's fine, but O'Connor doesn't want to see consumers rushing out to buy any product that contains soy, thinking it's the ultimate answer in nutrition.
"The one thing that is important to get across is that soy foods are not a magic bullet. They are an excellent source of protein, and definitely have a place as part of a healthy diet," she says.
The way to derive the most benefits from soy is to consume soybean products in as whole a form as possible, rather than the more highly refined state in which they're found in some foods.
Some good choices are edamame, tofu, tempeh, dried soybeans, roasted soynuts and enriched soymilks.
"Probably the soy food that our family consumes the most of is tofu. It's just a big part of our diet, because it's so delicious and convenient. We ate tofu when no one knew what it was, and our kids have been brought up on it, so they think it's normal," O'Connor says.
She acknowledges that, when it comes to buying and eating tofu, there's still a humor factor involved.
"It's delicious, it's good for you, but laying there in the case -- this square of gelatinous, nondescript stuff -- it's easy to see why people make fun of it," she says.
Central Soyfoods, Inc., a Lawrence business started in 1978, offers a variety of soy products: firm tofu, hickory-smoked tofu, four kinds of tempeh (five-grain, straight soy, sesame soy and wild rice) and three kinds of soymilk (regular, sweetened and vanilla).Its products are sold in Kansas and Missouri. They can be purchased locally at the Community Mercantile Co-op, Hy-Vee Food Stores; Dillon Stores; and Checkers Foods.The member-owners of the company, 710 E. 22nd St., are: David and Susan Millstein, Jim and Joan Vibert, Bob Leminska, Ed Reznicek, Kansas Organic Producers, Maggie Riggs and Eric Wiseman.Central Soyfoods can be reached at 331-8638 (TOFU). Its Web site is at www.centralsoy.com.
Copyright 2017 The Lawrence Journal-World. All rights reserved. This material may not be published, broadcast, rewritten or redistributed. We strive to uphold our values for every story published.