Every year, hundreds of Lawrence-area kids get their first taste of baseball and softball by playing in the Lawrence Parks and Recreation leagues.
For some, it's the beginning of a lifetime playing and enjoying the sport. For others, it's just a way to stay busy over the summer and hang out with their friends.
Either way, the philosophy of the Parks and Recreation leagues for boys and girls from kindergarten to sixth grade is for everyone to have a chance to play.
"My program is truly a rec program," said Lee Ice, youth sports commissioner. "The bottom line for me is that the kids have fun. My goal and objective is to make it fun for the kids so that they continue to come back."
Competition is not emphasized, but rather sportsmanship and the enjoyment of playing the game. The leagues keep neither scores nor standings.
With time-starved parents planning their kids' summers down to the minute and with countless other distractions such as video games, Ice said he thought it has become harder for kids to learn sports the old-fashioned way -- by playing them -- and that he hoped the Park and Recreation leagues provided the opportunity to do so.
"Parents make an issue out of winning or losing," Ice said. "We've gotten so much into structure that the kids have forgotten how to play. They're always waiting for an adult to tell them how to play."
Parents do play a crucial role in the league, though, as volunteer coaches who spend their summers teaching players the fundamentals of the game and sportsmanship. They help out in other ways, too -- filling out scorecards, driving children to and from games, and bringing after-game snacks. Without their amazing effort, Ice said, the league wouldn't be able to accommodate the upwards of 1,000 players who sign up every year.
Having that many children of a variety of ages participate in leagues requires a dizzying array of rules based on ages.
Kindergartners play strictly T-Ball, where players get to keep swinging at the ball until they put it in play. Innings end when all the players have had a chance to hit.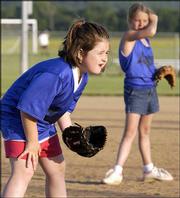 First- and second-graders can choose to have a coach pitch to them, or to stick with the tee. If a player can't put the ball in play after three pitches from a coach, they have one chance to hit off the tee. Unlike the kindergartners though, the first- and second-graders can strike out. Games last three innings or one hour, whichever happens first.
The third- and fourth-grade league still features coaches pitching, but the tee option is gone. Batters get four pitches to swing at, and players who fail to make contact strike out.
Some fourth-graders are ready to pitch and hit against each other, though. These players can join the fourth-grade Jhawk league and try out those fastballs they've been practicing in their back yards.
And finally, when the kids reach the Jhawk league for fifth- and sixth-graders, they can do most of the things that they watch the major leaguers do at the ballpark. They pitch to each other, balls and strikes are called, and they can even steal a base, although they can't take a lead before the pitcher throws.
And they can dream of hitting a ball over the 275-foot wall in left field at the Holcom fields, to the cheers of fans and teammates.
All the leagues are co-ed, but girls from fourth to sixth grades have the option of joining the Jhawk softball league.
Ice has a busy summer running the Parks and Recreation leagues. He deals with everything from putting rosters together so that friends can stay on the same team to dealing with calls from parents concerned that their child didn't get enough playing time.
Lawrence parents know Ice as someone who helps provide their kids' summer entertainment. But many of them also remember him as someone who played in the Royals' organization and was an assistant coach at Kansas University.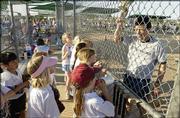 Despite having played baseball at a high level, Ice said he gets the most satisfaction now seeing former Park and Recreation league players who've gone to success in other professions.
After all, the odds of making the major leagues are stacked against anyone, but Ice doesn't think that should prevent anyone from enjoying the game.
"You learn so many more things from the game than just winning and losing, like leadership and discipline."
Copyright 2018 The Lawrence Journal-World. All rights reserved. This material may not be published, broadcast, rewritten or redistributed. We strive to uphold our values for every story published.