The atmosphere was tense and exciting at a Saturday afternoon game between the Mustangs and the Warriors.
Parents shouted encouragement to their 9-year-old children as they hit and fielded balls confidently and cleanly. The players looked professional in their uniforms and moved with the grace of much-older players as rain threatened to stop the game early.
The Mustangs and the Warriors are teams in the Douglas County Amateur Baseball Association, known as DCABA, or "de caba", a league for baseball players between the ages of seven and twelve that gives its players a chance to play at a higher level than they can find in the Park and Rec leagues.
"It's more competitive and the skill level is better," said Jerry Rietcheck, whose son Jordan plays for the Mustangs.
Rietcheck said his son and a group of his friends made the jump from Park and Rec Leagues to DCABA this year.
One major difference between DCABA and other leagues is the amount of time that kids and parents spend playing games and practicing.
DCABA Board President Jim Taylor said players generally play two or three games a week in addition to practicing once a week. Practices started in April and games began in May.
Taylor said that this level of commitment is what draws players and parents to the league, which has more than four hundred players.
"They play for DCABA because they want a little longer season and more instruction time," said Taylor.
The results have been impressive over the years.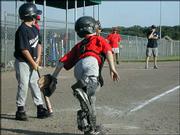 Teams often participate in state and national tournaments that happen in late July and early August, after the regular season. A team that started together as eight-year-olds has finished second in the state tournament the last two years, and a few years back a team of 11-year-olds placed fifth in the national tournament.
The time commitment is not quite on par with the local traveling teams like the Lawrence Rebels, though, and Taylor said that some kids notice this when they play in tournaments.
"The thing that prompts some of these kids to play for a Rebels-type organization is that they go to these national tournaments and run into kids that have been playing together for years and years," he said.
Despite its competitive outlook, DCABA is not all about winning. There is a draft designed to keep the teams evenly matched, and the league has rules to reign in parents who become abusive to players, officials, fans and coaches.
DCABA players start pitching to each other in the eight-year-old leagues, although a coach comes in to pitch to a hitter after four balls, a system designed to encourage hitting and take the pressure off young pitchers.
Nine-year-olds do all their own pitching, but they aren't allowed to take a lead off of first base. By the time the players are 10, standard baseball rules apply, and the players have the chance to showcase all their baseball skills, like bunting and stealing bases. However, pitchers are not allowed to throw more than seventy-five pitches in a 70-hour period to protect their arms.
DCABA is a co-ed league and Taylor estimates that about ten girls are playing on league teams this year.
League officials want DCABA players to have the chance to develop their baseball skills to the fullest, but that doesn't mean they should take the games too seriously.
"We don't make it to a point where by the time they're 12 or 13 years old, they don't want to play baseball anymore," said Taylor.
Copyright 2018 The Lawrence Journal-World. All rights reserved. This material may not be published, broadcast, rewritten or redistributed. We strive to uphold our values for every story published.