Paris — Renault's latest car comes without power steering, antilock brakes or electric windows. There's no air conditioning either, and if you want music while you drive you'll probably have to sing it yourself.
But with prices starting at $6,100, the French car maker hopes its new "Logan," unveiled Wednesday, will take pole position in emerging markets where the car sector is growing fastest.
Analysts remain divided over whether Renault can make money on its new no-frills sedan, or whether it could just end up driving the group's brand down-market.
By introducing itself to fast-growing markets as the maker of the Logan, said Gaetan Toulemonde of Deutsche Bank Securities, Renault could be harming its prospects further down the line when the same consumers get wealthier.
"If you get a reputation for making cars that are reliable but a bit cheap, it may be difficult to sell more upscale vehicles later on," Toulemonde said.
In North Africa and central Europe, the Logan will be sold under the Dacia brand -- the Romanian state-owned car company in which Renault acquired a controlling stake for $50 million in 1999.
In countries such as Russia, where the Logan will be priced in the $9,800-$12,250 bracket, the car will be sold under Renault's own name and insignia.
The car has been designed with a critical one inch of extra ground clearance to cope with potholed roads and dirt tracks. Specifications for each target country have not been finalized, but Renault said power steering, air conditioning and stereos would not be included with the cheapest models.
Although Renault said it currently had no plans to market the Logan in western Europe or the United States, Renault chairman Louis Schweitzer said he could not rule out its eventual introduction in developed countries.
Renault is betting that by 2010, some 700,000 customers will be opting for new Logans every year.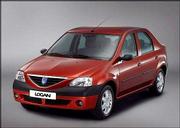 Copyright 2018 The Associated Press. All rights reserved. This material may not be published, broadcast, rewritten or redistributed. We strive to uphold our values for every story published.