Spencer Wilson is worried about what might happen to some of his classmates if the after-school program at Pinckney School is discontinued this fall.
"I think it would be pretty bad," the 10-year-old said Wednesday. "They would have to find somewhere else to go."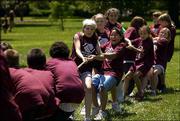 With federal funding expiring at four after-school program sites, advocates have kicked off a drive to collect $400,000 to keep the program available to about 400 children.
So far, a combination of private funds and grants -- both local and federal -- have totaled $195,000.
"We're about halfway to where we need to be," said Al Hack, a member of the Lawrence After School Alliance. "We need some pretty aggressive fund-raising."
The four sites -- Pinckney, 810 W. Sixth St.; Kennedy School, 1605 Davis Road; Woodlawn School, 508 Elm St.; and Cordley School, 1837 Vt. -- have been funded by a 21st Century Learning Community federal grant, which targets schools with the highest percentage of students on free and reduced-fee lunches.
The sites are among 12 after-school programs offered at Lawrence elementary schools. Central Junior High School, 1400 Mass., and South Junior High School, 2734 La., also have programs. Some of the sites are operated by Lawrence public schools, some by Boys & Girls Clubs and some by Kansas University's Hilltop Child Development Center.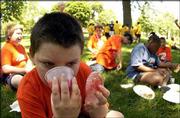 Each site enrolls about 100 children, and costs are about $1,000 per year for each child involved.
The After School Coalition last week sent letters soliciting donations to 1,100 individuals and businesses on a Lawrence Chamber of Commerce mailing list.
Hack said volunteers soon would begin phone calls to follow up on the letters.
Meanwhile, the coalition is continuing to seek grant money, and fees for those participating will increase from $10 per month to $10 per week beginning in the fall.
"What we're trying to do is diversify our funding, so if one source goes away, the programs can continue," said Janet Murphy, another coalition member and director of Boys & Girls Clubs. "With this grant, we had all of our eggs in one basket."
The group is hoping to announce by July 1 whether all four sites will remain open.
Hack said it's possible the group would need to conduct similar fund-raising efforts every year to sustain the programs.
"Grants are a kind of a short-term fix," he said. "We need to convince the community this is something we need to fund on a long-term basis. During that critical time between when school is out and when their parents get home, we're giving kids a supervised place to get help with homework and learn some social skills. We make sure they're OK between 3 o'clock and 6 o'clock."
Copyright 2018 The Lawrence Journal-World. All rights reserved. This material may not be published, broadcast, rewritten or redistributed. We strive to uphold our values for every story published.